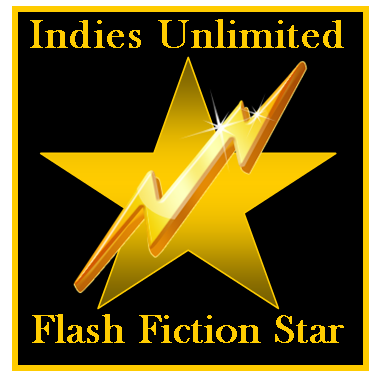 Janni Styles is the readers' choice in this week's Indies Unlimited Flash Fiction Challenge.
The winning entry is rewarded with a special feature here today and a place in our collection of winners which will be published as an e-book at year end.
Without further ado, here's the winning entry:
.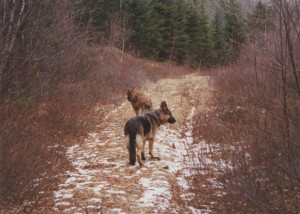 Guides
by Janni Styles

My left leg hurt so I couldn't move swiftly. I soon found myself feeling very fond of the kindly dogs.
After a time, I stopped to rest on a boulder by the gravel road. An approaching vehicle rumbled toward us. The dogs sat sentry like, one either side of me. Their ears perked and their heads tilted as a rusty jeep appeared.
Two men wearing orange vests stood with their guns poised on the roll bars while the driver navigated to a gentle halt.
"Lucy, are you okay?" the handsome driver with friendly eyes asked.
"Who are you?" I asked.
"It's okay, sweetie, let's get you home," the man said, helping me into the jeep.
His two burly companions had set their rifles down and were chatting amiably.
"Hey guys, see if you can limp her car home?" the driver asked.
"Sure," the tallest guy answered as both jumped out and headed back toward the car.
The dogs leapt into the jeep when the driver called them by name.
"Are these dogs yours?" I asked.
"Yep," he said.
My brain was so foggy, I didn't know whether to be scared or not.
"Good thing we were hunting," he said, "this logging road is rarely used anymore."
His calm hand movements as he shifted gears sparked a chord in me.
"You are my husband!"
Hot tears started down my face.
"I am," he said.
"I have PTSD!"
"Yes, you do, my sweetheart," he said, "Yes, you do."