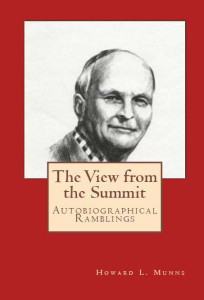 Recently I've been working with a 90-year-old woman on her memoirs. If you just glanced at the small, frail woman, you would never guess what she's seen, where she's been or what she's accomplished in her life. Like most older people, she doesn't carry a sign saying who she is, and those who don't look beneath the aging face miss a lot.
To add to the complexity, she's always been dyslexic. Like most differently abled children of her time, she didn't get any support or sympathy for her difficulty with learning, or even a diagnosis that she could understand. She was labeled "stupid" for a large part of her early life. Because of that, she has a decidedly low confidence in her ability to write.
So how did she start working on her memoirs?
Not by writing. She kicked off the project by sitting down for interviews with a friend who recorded every word. In this way, she could simply answer the questions put to her, talk easily and simply about the way her life unfolded, and not worry at all about the commas or the way words were spelled. Now, in the editing process, we're going back through it and cleaning up the little bits of ramble here, repeating there, and we're filling out the episodes with more structure and detail. I have no doubt we'll craft a professional and fascinating book of a story well worth the time and trouble.
I know not everyone loves to write like I do. I know some people actually dread it. For some, the idea of sitting down and writing their personal story might feel more like sitting down in a dentist's chair for a root canal. Yet I sincerely doubt these same people would object to pulling up a chair with a friend and just chatting about their lives. How threatening is that?
But where to start, you might ask. What questions should the interviewer ask?
I have a suggestion for that, as well. I believe almost every household has, somewhere in the dark corners of a closet or tucked away behind the Christmas tablecloth, a shoebox of photos. You know, those loose, grainy black and white photos that never made it into a photo album? They might be photos that seemed inconsequential at the time they were developed, or they could even be hand-me-downs, their context blurred by time. Drag that puppy out of the shadows and start laying photos out on the dining room table. I guarantee you'll hear more than once, "Oh, I remember that. That was when …"
Just remember to have a recorder going when you do this.
I think you might be pleasantly surprised by the richness of the recollections. I was lucky. My father wrote his autobiography over the last twenty years of his life. After he died, I scanned in all the typewritten pages, added pictures, and published his story. I had no expectations for selling books or for making money. I just wanted his story out there. It's the story of our family. It's the story of America from 1911 to 2002. It's history. And it's a rare treasure more valuable than any other.
Do you or a family member have stories that get trotted out every Thanksgiving? Stories of childhood antics and family sagas? Stories of love and loss, of friendship, of heartbreak, and adventure? I strongly urge you to capture those tellings before the opportunity is gone. This is one time when I will say, with all confidence and encouragement, you don't have to be a writer to write. Forget the commas, forget the sentence structure. Trot out that old cassette recorder and start talking, start asking questions. Just start. These stories won't be available forever.
Grab them now. Before they're gone.