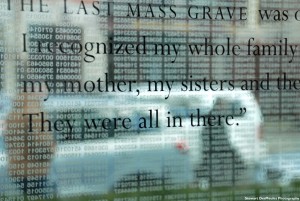 As writers and readers, we know words have power. They mean things. Some words carry more weight than others. Anyone who has been bullied knows that. One pointed word, repeated over and over again, can be sharper than an army's worth of swords.
Before you start talking about lightening up and censorship — let me tell you a story.
About ten years ago, I drove to the Bronx with my husband to visit his then ninety-one-year-old great aunt. She grew up in czarist Russia, as did some of my family. Once in a while, Cossacks would ride through and terrorize Jewish villages. Kill, rape, burn houses to the ground. Destroy entire communities. Able-bodied young men were taken away and conscribed into the Czar's army. But mostly they were all killed. When she was five, the Cossacks rode into my great-aunt-in-law's village. At the time she, and many of her neighbors, were in synagogue. She and a few other children managed to escape and hide in a tiny loft in the attic. But they could hear everything from downstairs. The women screaming. The men groaning out their last breaths as the blades sliced them clean through. She still remembered every detail, every sound, every hair standing up on her arms and neck, eighty-five years later.
"Cossack" was not a term thrown lightly around those who survived. It was shushed away from children's lips, for fear of calling the evil spirits back. It was not attached to other words and weakened.
I am lucky on many fronts. My direct ancestors escaped Eastern Europe and the tyranny of the Czar. I am also lucky that they were living in New York when the Nazis rose to power. Some branches of my husband's family were not so lucky. They went to the camps. They did not return.
But what we don't preserve and remember, we lose. If we weaken the concept of the Nazis by making it "cute" with phrases like "Grammar Nazi," et cetera, then we begin to forget. And it sounds so awfully extreme, to equate someone who points out the rules of comma usage with criminals who bayonetted babies — yes, they did that — and put people in gas ovens.
I abhor censorship. Not only because as a writer, I don't want my rights of free expression curtailed, but because I have the greatest respect for the power of words. Drop the perfect one in at the perfect time and that can make all the difference. Or, if a weaker one is substituted, it can bring your story to a crashing halt.
This isn't about censorship – it's about respect and compassion for the millions of people who suffered either directly or indirectly from the atrocities that were committed.
Grammar police works, as our K.S. Brooks pointed out. Call me a grammar grump, a grammar grouch. Dust off your thesaurus and call me persnickety, pedantic, and a picky pain in the ass, but can we leave the Nazis out of it? Thank you.