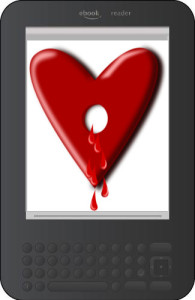 Last week, authors of romance and erotica titles had more than just the Kindle Unlimited payout changes to worry about. Also, the eBook subscription service Scribd announced it would drop most of its romance titles as fast as a girl who's offered a better prom date.
Apparently Scribd didn't realize that romance fans read a lot of books. A lot of books. Any outfit that charges a membership fee – like a gym or, hey, a book subscription service – counts on a percentage of the members dropping out or otherwise not turning up to use the facilities. Those fees help to keep the lights on while not putting any strain on the resources. (So when you bought that two-year gym membership and then quit going after two weeks, you were actually helping other members! How altruistic of you!)
On the other hand, such businesses always have superusers, or people who use more resources than their membership fee pays for. Ideally, things should balance out – that is, the non-users' fees should cover the superusers' overuse, and still give the business owners a profit.
That's not how things were working out for Scribd. Romance readers were going through so many books each month that their $8.95-per-month subscriptions were costing the company money. Compounding the situation is Scribd's policy of paying publishers the same percentage on borrows as the publisher gets at retail. So the service made the draconian decision to drop a chunk of its catalog.
We could debate whether that move was the best choice, or whether a different alternative would have served everyone better (and please feel free to give your view in the comments). But this is the way things are going to be – at least for now.
Smashwords is one of the publishers taking a hit, and Mark Coker gave some details on his blog last week. Free books will stay, he said, and books priced between free and $3.99 have a better chance of surviving than those priced at $3.99 and up. He also said Scribd is leaning toward keeping eBooks with higher word counts.
Scribd isn't the only eBook subscription provider going through changes. In April, Oyster set up shop as an eBook retailer, while maintaining its $9.95-a-month subscription service (the same price Amazon charges for Kindle Unlimited). Oyster clearly intends to challenge Amazon for the top spot among booksellers worldwide. Willem Van Lancker with Oyster told Business Insider earlier this year that his company wants to be "the most creative and interesting company in books."
Amazon could certainly use the competition. But from an indie point of view, one thing both Scribd and Oyster lack is a direct route into their catalog. Amazon has KDP and Apple has iBooks, but indies must use Smashwords to distribute to Oyster (and Scribd). Draft2Digital distributes to Scribd, but not to Oyster as of yet.
Some big-name indie authors have suggested over the past few days that book subscription services are the wave of the future. Consumers, they argue, would rather borrow digital copies of music and movies these days than own them – think Spotify and Netflix – and they believe the same thing will eventually happen with eBooks. Book subscription services are so new that it's anyone's guess whether that prediction will come true – and, assuming it does, what it will do to author earnings. But one thing is certain: the business will keep changing, and we'll have to keep changing with it.