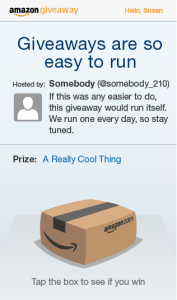 I like to try new things in the world of book promotion when they fit my budget, so when Amazon announced they were trying their own giveaways, I thought I'd give it a whirl. And the timing was good. For reasons only Amazon can explain, the price of one of my paperbacks had been drastically reduced in April. Coincidentally, this was the start of baseball season, and the book is a romantic comedy with a baseball sub-theme. So…(give) away we go.
Amazon made it easy.
1. Go to the Amazon page for the paperback version of the book you want to give away. (Although you can give away tons of other things besides books.)
2. Scroll to the bottom of the page until you find the giveaway option. (Hint: it's underneath the reviews.) Click "set up a giveaway."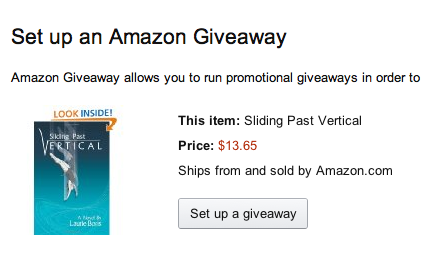 3. Select the parameters of your giveaway. I chose the "lucky number" option so the giveaway would last longer, and I made following me on Twitter a requirement to enter.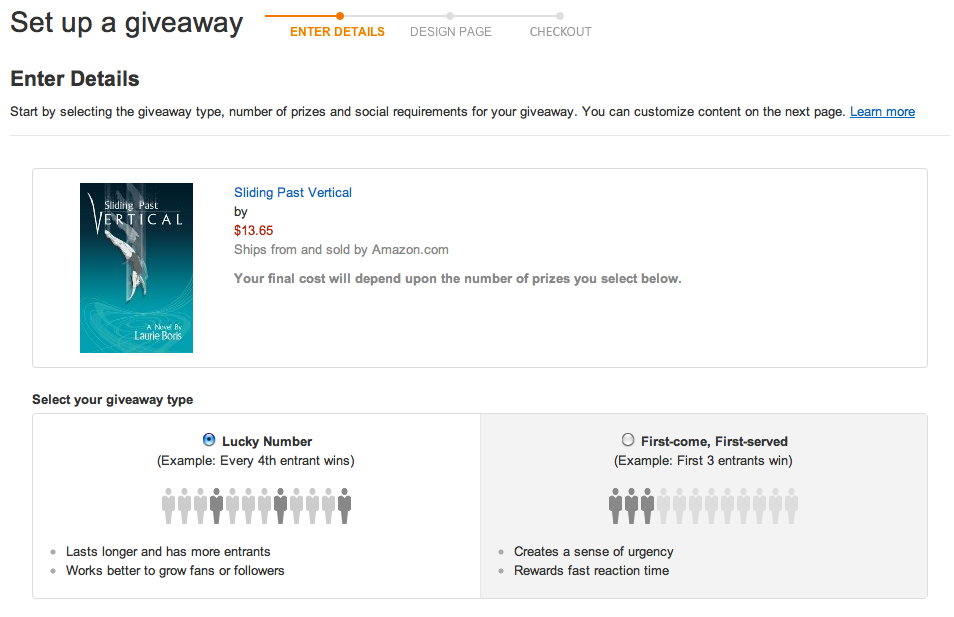 4. Design your giveaway. You'll be asked to write a title for your giveaway, a welcome message, a note for winners, and a note for those who didn't. Just a warning — you can't change your text once you proceed to checkout. The "win" and "lose" page notes are great places to invite players to check out your other books. You can only link to Amazon-owned property, which means you can drive eyeballs to your Amazon author page, individual book pages, or to Goodreads.
5. Purchase the items you will be giving away.
6. Play ball! Amazon will run the giveaway and ship the books directly to the winners, so there's nothing left for you to do at this point than promote. I announced my giveaway to my newsletter mailing list, because I like to tell them about special offers first.
Depending on the interval you choose, this giveaway could be over in a flash (I think mine lasted 36 hours) or it could end without any books being awarded at all. Amazon will refund you for any items not awarded.
Theoretically, you can use this process to pick up a lot of Twitter followers and not give away a single book. I don't understand the value in that, though. The four books I gave away are probably on eBay right now. I haven't seen any reviews or direct sales from this, but hopefully somewhere along the line, someone will read them. Better out there than in Amazon's warehouse or sitting in the POD computer, waiting to be printed. But about eighty percent of my new Twitter followers looked like professional giveaway hunters. I hope they are readers, but I'm not hanging my hat on it.
Would I do it again? Probably. If you share it with the right people, it could be a good way to generate a little buzz for the price of a few print copies and shipping. Have you ever tried an Amazon giveaway? Has it worked for you?