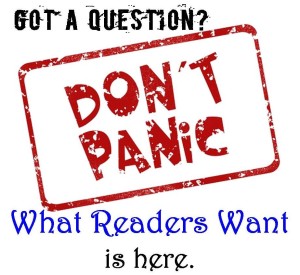 As an author, do you ever struggle with a decision about your book and wonder, "What would a reader say?" You probably aren't the first author to wonder about that same thing. Indies Unlimited has two reviewers on our staff, the fabulous Cathy Speight and venerable Mr. BigAl, who are here representing readers. In this series, we'll pose your questions to them for their take and encourage other readers to weigh in with their thoughts.
First the question from the author:
An author asks, "What would make you keep reading a story with characters that are essentially unlikable?"
Not explicitly stated, but I think implied in this question is that they're wondering about the protagonist(s) or main characters. We probably aren't talking about the villain or antagonist of the story, who usually have a lot of unlikable characteristics. But what if everyone who plays a significant role in the story is unlikable; is there still a possibility of a story that will appeal to readers?
This is a tricky question to answer because there are probably readers out there who are okay with things I'm not, and others who wouldn't be with things that I'd be more than cool with. At least to some degree, what is going to fly, with me or with other readers, is going to depend on genre and the expectations that sets up.
For example, if you're writing in the romance genre and both the hero and heroine are unlikable, what reader is going to care whether they end up together? They might believe they deserve each other, but not enough to go along for the ride as they search for their evilly-together-ever-after.
Indie author Edward Lorn has a series of thrillers featuring a character named Larry Laughlin. He's an evil man who for years worked as a hitman. Post-retirement I think the corpses have stacked up faster than they did when murdering was his job. If he was the antagonist in a story, you'd dislike him. Dislike him a lot. However, in this series Larry's victims are pedophiles and others who prey on children. His backstory involving years of molestation by his father gives the reader a reason to sympathize with him, especially considering the people he's killing are worse than he is. At least now, while his methods aren't socially acceptable, he's on the right side. He may not be likable, but it is still easy to pull for him to prevail. (Many who would abhor vigilante justice in real life, will applaud it in fiction. Apparently I'm one of those myself.)
In most genres, a story is better if the characters have some nuance. An antagonist with some good qualities or sympathetic characteristics is best, just as a protagonist who isn't perfect, is better than one with no faults. The story is more true to life this way. However, it is possible to go too far. How far is too far depends on the situation. My two examples provide some clues. The shortest way to give a straight answer is to say that the story has to have something to make the reader care how the main story conflict turns out. That doesn't have to be because the reader likes the main character.
In the example of the romance, since the genre requires an ending where the hero and heroine find a happily-ever-after or at least happily-for-now ending, you can't dislike either at the end. They can frustrate you, do stupid things (both almost sure to happen), but never go so far as to be unredeemable in the reader's eyes, or the book is going to hit the recycle bin mid-story.
The Larry Laughlin stories work for two reasons. One is that the character of Larry isn't completely unlikable, due to his history and who his victims are. That violates the premise of the question. However, Larry could be much less sympathetic. Maybe take away his history of being molested and make him a character who just loves to kill. The story would still be redeemed for many readers because he is exterminating people who the world is better off without. Also, the stories typically have another character who is likable, and whose life will be made better if Larry is successful in finding and eliminating whoever he's after. The reader would care about the other character, even if they couldn't stand Larry.
How about other readers? What does a book need to have for you to stick with it, even if you don't care about the main character?
If you have a question you'd like considered for our "What Readers Want" series, drop us a line by using the contact form. Please put "What Readers Want" as the subject line. Cathy and BigAl will choose from the questions submitted for future posts. Please make sure to let us know if you want to remain anonymous. If you're lucky, they'll both answer your question. Maybe they'll even agree with each other.