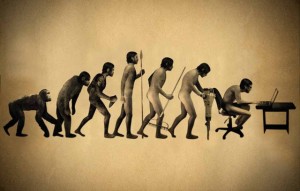 In Melissa Bowersock's article, Conflict: The Heart of Storytelling, she wrote, "Storytelling is as old as human DNA. As old as language. As old as Joe Neanderthal sitting around the fire at the mouth of his cave, telling the group what happened that day. 'Me went hunting, threw rock at rabbit, killed it, brought it back. Good day. Ug.'"
As old as language. There are many theories about how language developed. As recently as April 2015, researchers at MIT said language developed rapidly. Human speech wasn't a series of mumbles and grunts. Rather, humans combined two kinds of communication, one from birds and the other from monkeys.
But my unscientific theory is that language developed because humans have a deep-seated need to tell and hear stories. Our thinking is on a higher order. We have curiosity that is light years beyond the kind that "killed the cat." Possibly the most important part of our intellect is the ability and desire to ask why, to want to know the answers. To put it in modern terms, the cat wants to know what is inside the box. The human wants to know why the cat can be alive in one reality and dead in another when an observer opens the box (see Cat, Schrödinger's).
We have imagination. We daydream. We concoct stories in our minds. We envision possible outcomes. We wonder, ruminate, and ponder. And, we need to communicate our thoughts to others. Of course, as hunter/gatherers, we needed to communicate vital survival information (e.g., which Wildebeest to single out, where to dig for the best yams, if a lion was nearby, and so forth.) This is the kind of thinking seen in predators (hunt the Wildebeest) and prey (the best yams, where's the lion?). Our human brains, however, go beyond simple survival mode into abstract thinking. We want to understand what we experience (what is the cause and effect?)
If we can't understand something, we'll make up a tale which seems plausible. Thus, a story is born. An example would be when a primitive tribe explains the terrifying phenomena of thunder and lightning by the "obvious" existence of an anthropomorphized Big Hairy Thunderer. One day Ernie is out hunting with the guys when he is struck and killed by lightning. Naturally, the tribe wants to know why the BHT killed Ernie, in order to avoid doing whatever it was he did and meeting the same fate. Someone remembers the time when Ernie stole Ed's newly sharpened spear because he wanted to hunt but was too lazy to sharpen one of his own. And wasn't it generally true that Ernie was pretty lazy most of the time? Ah! Now we know how Ernie sinned against the BHT. (Much later, this would be refined and known as the scientific method where the "making something up" becomes a reasoned hypothesis based on close observation.)
What I'm calling a "deep-seated need" to tell and hear stories may have been a key part of the brain's development. Research in neuroscience suggests that the very act of telling and hearing a story stimulates multiple areas of the brain. Not only that, it seems to affect our social interactions. Admittedly, the research was based on readers of fiction, not verbal storytelling. I think our earliest ancestors must have experienced the same brain stimulation and social development as the modern readers in the experiment.
What does this mean to us writers and readers? According to the article, if you write, "The singer had a pleasing voice," it's boring to the reader because the phrase pleasing voice is so generic that your brain ignores it. But if you say, "The singer had a velvet voice," then the sensory cortex of the reader's brain activates the same area that identifies textures. The more vivid the writing, the more engaged (stimulated) the reader (brain).
And get this: the research shows that frequent readers of fiction, particularly those who were read to at an early age, have a greater ability to empathize with others. That's because the readers of good fiction mentally and emotionally put themselves inside the character's plight. They feel and understand his point of view. Writers do, too, while they are in the act of writing. It's not possible to write a good emotional scene without feeling what you want your character to feel. The act of telling (writing) and hearing (reading) a story has profound importance in our mental, emotional, and societal development.
So, readers and writers, let's all keep doing our bit for humankind.