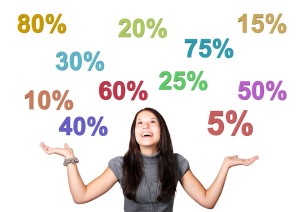 The digital revolution has changed many things, not only the way we do things but the way we measure things as well. Remember when digital clocks began to outnumber analog clocks? You could always tell what kind of watches people had on their wrists. If they looked at their watch and said, "It's almost 1:30," they had analog. If they said, "It's 1:24," they had a digital. Another of these insidious changes is how we measure the amount of a book we're reading. No longer do we say, "I'm on page 101," or "I'm almost half way;" nowadays, most of us will say, "I'm at 44 percent," because that's the way our eReaders show our progress.
No big deal, right? It's just a matter of getting used to something new and letting go of the old way that is no longer applicable.
Except for one thing.
In the old paperback days, it was common for the story to be followed by a page or two, maybe three, of other books by the author, a bit about the author, or other books by the same publisher, but that was about the extent of it. If we looked at the book in our hand, we could easily see that we were about halfway through it, and we knew it would end either at the back cover or very close to it.
Not so today. We no longer have to worry about the size and weight of our tomes; they're all the same size and weight as our eReaders, so the "page count" doesn't matter. Therefore it's easy to load up the back end of our books with lots and lots of other material. At the very least we can tack on our bio and a list of all our books. We can expand on that and add descriptions of all the books, even links to Amazon so readers can scoop up other gems that look inviting. More and more authors are now including sample chapters to really pull the readers in to the next book.
Why is this an issue?
Let me back up a bit. A couple years ago, I got a new Kindle Fire, and I gave my old Kindle to my husband. He'd never been much of a reader but wanted to try out some of the old classic Westerns: Zane Gray, for example. I began to load up the old Kindle with free and cheap Westerns. In doing so, I created a monster.
My husband read 160 books last year. He's already read 20 this year. He devours these things, sometimes in a single day. It's a good thing I've joined Kindle Unlimited so I can feed his voracious appetite.
But very often I hear complaints. He's not a writer like I am, but we've discussed editing and typos and such enough so that he's become more aware of sloppy writing. He'll often bemoan typos and misspelled words to me. What he complains the most about, however, is the false sense he gets from the percent read on the Kindle. There have been times when he's finished a book, but the Kindle says he's only at 93%. He was really savoring the story, savoring that last 7%, but then suddenly — it's gone. Nothing left but the back matter.
You know what that's like. That's like when you've got a small pile of chocolate chip cookies sitting at your elbow as you read, and you read and munch, read and munch. Until that moment when you reach for another cookie and — they're all gone. You've eaten the last one and you didn't even know it. Wah! There's nothing worse than not knowing you were eating the last one!
That's how it feels to have 7% left on a book when it ends.
I never thought too much about it until my husband began complaining about it. I've loaded up the back end of my digital books with lots of stuff: my contact info on social media, descriptions of my other books, my web page and blog addresses. Now I'm wondering how many readers are cussing me for giving them a false sense of more story to come. Of more cookies to come.
What do you think about this? I'd love to hear from readers and writers, get perspective from both. How do you feel? Big deal? Small potatoes?