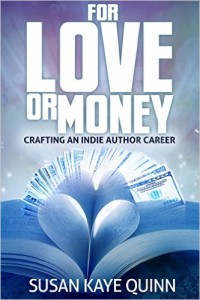 There are so many books out there about publishing and marketing and writing and…well, it can get a little overwhelming. Whose advice do you follow? Which author is right? I've read a fair few since publishing my first novel in 2011 and one I recently came across was a total revelation. I found it really helpful and inspiring, so I wanted to share it with you.
For Love or Money by Susan Kaye Quinn is well worth a read. In this book she unpacks the difference between writing books you love and writing books to earn money. I didn't even realize there was a difference, but there really is.
Ms. Quinn has written a very honest, open book about her own experiences and what we can learn from them. She teaches the reader how to study the market and figure out what books are trending. Before this, I was a little at a loss how to figure all that out. Her easy writing style and simple explanations made it so clear to me and really helped me analyze my business and what I wanted to achieve in 2016.
I have a series of books that are very close to my heart, but they're not bestsellers. It was so refreshing to be told that, "It's okay." Those are my "for love" books and I should write those, but not have expectations of hitting the NYT bestseller list with each publication. If I'm writing to make money, then I need to study the market and figure out which categories I can rank high in. I need to research and read, read, read the books in the category I'm aiming for.
I followed Ms Quinn's instructions and noticed a bunch of trends and similarities that I never knew existed. It was truly enlightening and has given me the courage to step out and try some new things this year. I'm still in the early stages, but I'm really excited to see what will come from writing in a genre I've never tried before. Funny thing is, I've absolutely loved working on these new books, so maybe the separation between love and money doesn't need to be so huge. Now, I haven't published the first "new" book yet, so it remains to be seen how much money will come from this endeavour, but in spite of my trepidation, I'm really keen to see what comes from trying something new.
If you decide to check this book out, I encourage you to read it with an open mind and really analyze what you're doing now, where you want to be in your writing career and the steps you can take to get the things you want.
Me? I want to earn enough money to stay home and write full-time. I don't need millions, just enough income to justify being an at home mother/writer. I'm really hoping that trying to write to trend for the first time will help me reach that goal.
Are there any books that have really opened your eyes and changed your perspective on this self-publishing business?