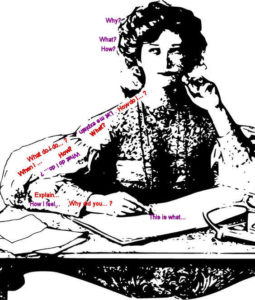 Many of us might consider what we do when we write creatively to already be therapeutic; after all, if we didn't get that story and those characters out of our brains and down on paper, we just might go nuts. But I've found a huge therapeutic benefit from writing when I need to vent, when I need to puzzle something out, and when I need to get a grip on some issue so I can quit obsessing about it.
I was reminded of that recently. I was having a problem and needed to write a letter to get it resolved. The sticking point was that I could not lay the problem solely at the doorstep of the people I was sending the letter to; I had a hand in it, as well. Although I had acted in good faith, I had made a weird situation worse, and I had to own up to that. But the overarching problem began with these others.
I actually avoided writing the letter for days. This was one of those gut-twisting things that I just didn't want to deal with. But I had to. I "wrote" the letter in my head over and over, again and again, but every time I thought about sitting down and actually writing it, I did something else instead. So what did that do? It left my brain free to keep cycling through the points of the issue, like a hamster running endlessly on its wheel. I'd go through the process, all the things I was told to try to resolve the issue, how each brought me nowhere near resolution but led me to yet another process that ultimately failed. Point by point, over and over.
I hate obsessing. I hate the fact that my mind will go back to it whenever I don't keep a tight rein on it, that it will go immediately to that thing like an idle hand drawn to pick at a scab. And no amount of obsessing ever seems to be enough. I can go through the litany of the process over and over, yet that never seems to take the energy out of the thing. It never settles the issue. It just keeps looping back.
What finally channels that energy away? What finally gets it out of my head? Writing about it. It's as if the pathway from my brain, down my arm, through my fingers to the keyboard is a sluice, and only when it's open can all the words and the energy attached to them flow freely from my churning mind. Only by putting those words down on paper can I empty them out of my head. As soon as I wrote that letter, I stopped obsessing about it.
Whew.
I've used writing for therapeutic purposes before. Many times, actually. Once I was diagnosed with a lump in my breast, and coming from a family where breast cancer is prevalent, I was of course devastated. To make it worse, I had done all the things I was "supposed" to do—taken care of my body, eaten right, exercised, claimed and connected with my inner feminine, gotten yearly mammograms. The mammogram, of course, is what uncovered the lump. But I was still pissed. Not scared, just royally pissed. When I could feel the burgeoning anger building up inside, I knew I had to do something. I grabbed my journal and locked myself in my bedroom. And I wrote. And wrote. And wrote. I cursed every incarnation of gods and goddesses I could think of. I wrote and cried about the injustice of it all. I detailed all the reasons why this should not be happening to me. And yet it still was. When I got down to that — that I still had to go through a biopsy, regardless of anything else — I knew I was down to brass tacks. It was only then that I could — still writing — make my peace with this thing and prepare for the surgery. It was only after I had emptied myself of all the trauma and drama that I could move forward with purpose and address the issue in the here and now.
The good news is that the biopsy was negative; no breast cancer. What I still find interesting is that I went into that surgery with a sense of wonder, not fear. With interest, not denial. It was actually a great experience, and I truly believe that my journaling through the emotions was a huge part of that. I think if I had kept all the fear and anger and doubt in my head, rather than channeling it down onto paper, I would have been a basket case.
Another time, I had a clash with a friend. She'd been involved in a bad experience, and I told her I would support her in any way I could as she resolved the issue. What I didn't bank on was the fact that she would come up with a path to resolution that was dishonest and manipulative. I couldn't support that at all. When I told her that, she was incensed. After all, I had promised my support. Yes, I had, but there was no way I could help her map out her plan. What to do with the impasse? Right, grab the journal and start writing. I wrote from her side, then wrote from mine. Why couldn't we meet in the middle? Where was the disconnect? Finally I remembered something; someone else had once made a similar promise to me, a promise they couldn't keep. I journaled back to that, back years, to some old, scarred-over disappointment. And I realized what I had done. I had made a blanket promise — written a blank check, essentially — that now I could not, would not cash. The issue was not that I was going back on my word. The issue was that I had no business giving my word in the first place. At least not without knowing what her plan was. Ha! Suddenly it was all crystal clear. I could feel all the emotion, the anguish, the doubt, the dread, washing out of me, down that sluice, down onto the paper and away. When I next saw my friend and explained my position to her, she was still not happy, but you know what? That was okay. I was solid in my understanding of my own actions, my own shortcomings, and my own confidence. What had been a huge problem had now become a non issue.
All through writing.
Sound too easy? Well, it's not. It's never easy to face our infallible natures, but doing so certainly takes the teeth out of the problems. Sure, we still have to move forward with whatever-it-is, but at least we can do so with clarity and confidence. Getting off the hamster wheel is the largest single way to move forward, and the best way I've found to do that is by writing. DIY therapy… and it's free!