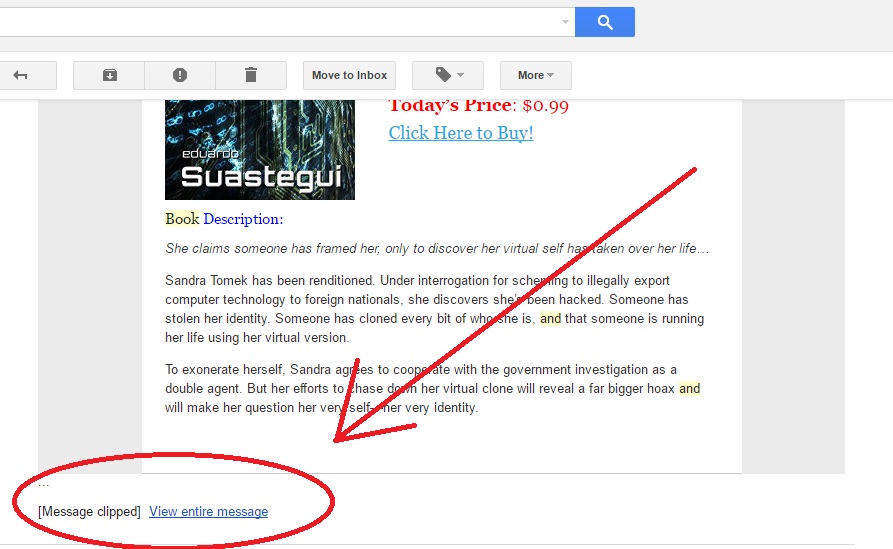 Several authors have reported to IU that they've had disappointing sales after paying for an email advertisement, only to find their book didn't show up in emails sent to recipients using a few of the big web-based book promotion services. Why not? Because companies like Gmail cut off emails they consider too long. So, here's a typical scenario an author has reported to IU:
I was all excited because I got accepted by one of the advertising sites for discount books. On the day my book was scheduled to run, I opened up the email, scrolled all the way to the bottom and didn't see my book. I was really mad as I paid money and was told I was scheduled for that day. I was about to email the site to find out what happened, but I decided to look at the email again, just to make sure I hadn't missed my book. Then, I saw something I've never noticed before. At the bottom of the email, it says: "Message Clipped" and indicates to click here to "View Entire Message." I clicked the link and it opened a new screen where I saw my book listed as one of the last few books in the email. But, my heart sank as I realized I was probably the only one who clicked that link. I didn't even notice there was a link until I realized my book wasn't there. And the resultant sales — or lack thereof — confirmed my suspicion. Very few people clicked to view the entire message. Most people didn't even know my book was advertised, even though I paid money to be advertised in the email.
It's a very frustrating situation for the author. It's not entirely new in email marketing though. Mail services like Gmail have been truncating long messages for several years. For some reason, we've only been hearing about it affecting book advertisers in the last couple of months. Because marketers have known of the email truncating problem for a couple of years, there is an established fix: keep email content to less than 102 kb. This fix is recommended both by MailChimp and Adestra. However, some advertising services that are charging authors to feature their books aren't following this best practice.
So, if you're an author and you're about to advertise on a site, what do you need to do to make sure you don't pay for an ad that gets clipped? Well, there are no guarantees, but here are a few suggestions of things to do to lessen your chances:
1.    Subscribe to the book promotion services you plan to advertise on (using a Gmail and/or Yahoo address) and check the emails for a week or two. Are their emails getting clipped? If so, that may not be a site you wish to advertise on.
2.    Ask the book promotion service how they combat the problem of truncated emails. If they can give you an answer, it means they're aware that this is a problem and are actively striving to make sure you are getting what you pay for: an appearance in their email ad.
3.    Ask the email service what they do for authors whose books got cut off. If your email service is trying to do the right thing and keeping their emails under 102kb and generally have no truncation, then they might have a policy about what they'll do if they have a problem now and again. Perhaps they offer a second run at no cost at a later date. Or perhaps they give you a discount on a future ad. But it will be something more than, "Too bad for you," which is the response some of the authors who complained to IU heard.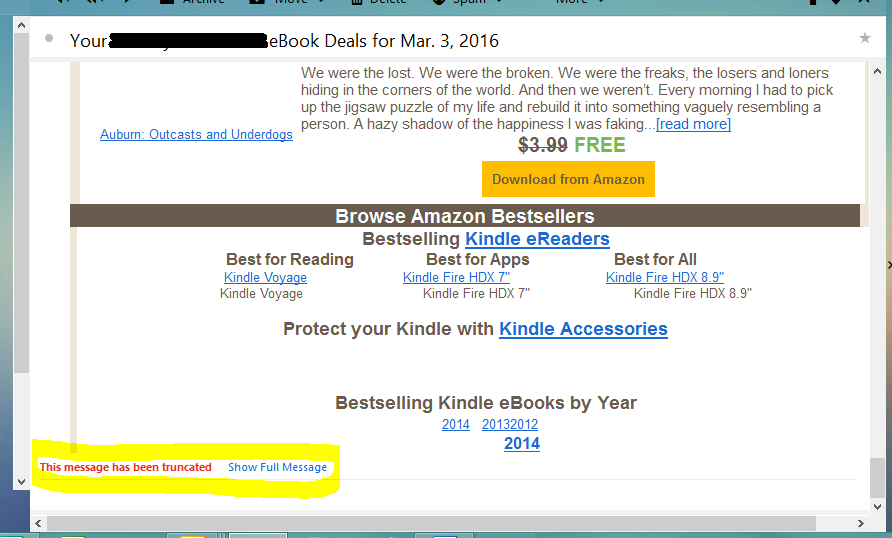 Our readers reported that advertisers they'd experienced the truncated email issues in both Gmail and Yahoo! mail with included KB&T (Kindle Books & Tips), Choosy Bookworm, and BookBub. This may be entirely dependent on how many genres they are subscribed to.
When authors pay for email ads, the goal is to increase visibility. And while we all know those at the bottom of the email get less visibility than at the top of the email, we don't expect those at the bottom to not be seen at all. And that's what happens when messages are truncated. Those books that would have been mid-mail become bottom of the mail, also reducing their sales. So, the problem affects all the books except for those at the very top.
If you can think of any other strategies that can help authors avoid this problem, feel free to post them in the comments.