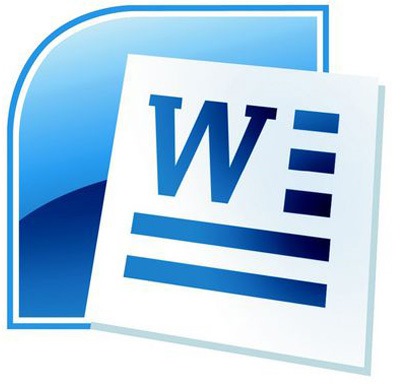 The debate continues, but I'm back to tell you yes, you can format and upload your eBook manuscript in Microsoft Word. My last post led us through the process of getting rid of all the junk, hidden code, and other weirdness . Now we're ready to format.
There are many ways of performing the same action in Word. I start with setting up my styles.
From the Home page, select the entire (you can use CONTROL and A to select all) document (red arrow below) and go up to the tiny arrow under Change Styles (green arrow below). Click that and you get a list of styles from which to choose. I go to Normal and choose Modify (blue arrow below).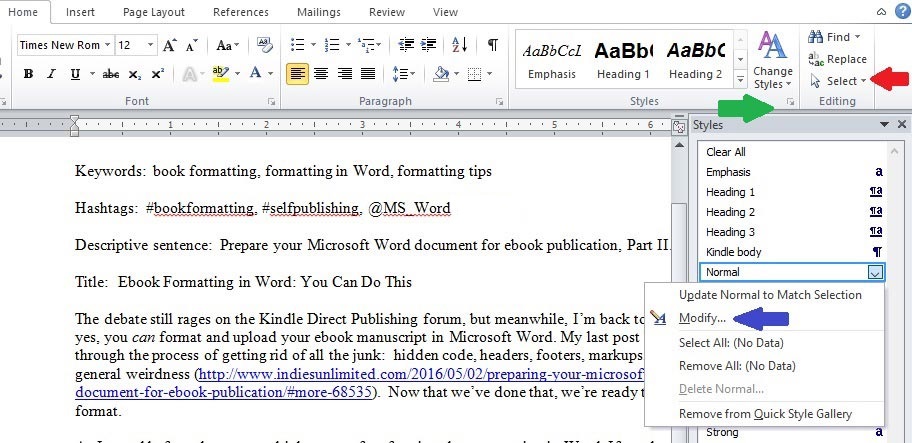 These are the default Word settings. I change them. Under Formatting (red arrow below), I set the font to Times New Roman (very close to the Kindle defaults of Caecilia and Bookerly). I change the font size to 12.
Now we'll look at the paragraph spacing. See where it says "After: 10 point" (blue arrow below)? That means there will be extra space between paragraphs (as discussed here) and we don't want that. Click the tiny set of arrows on the right (green arrow below) to remove the extra space.
Our font is set, so click on Format (purple arrow below) and choose Paragraph.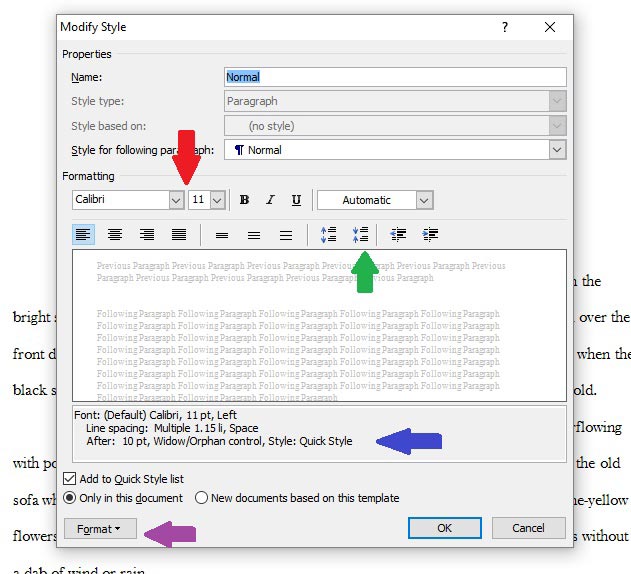 See Alignment (red arrow)? That's another argument on discussion boards.
Why justify? If your manuscript isn't justified, the Look Inside is ragged right. Some people feel that looks unprofessional.
Why not justify? Kindles automatically justify the manuscript (but not the Look Inside). When justified is set in the manuscript it can override the ability for readers to select "ragged right," if that's what they prefer. Some formatters recommend against justifying the manuscript for this reason. Others recommend justifying so the Look Inside looks nice and crisp. That's something the author has to decide.
I leave the default in place at "Left." To set indentation go to Special (blue arrow below), select First Line from the dropdown, and set it to 0.3. Set Spacing (green arrow below) to "0" at both Before and After (again, to remove blank lines between paragraphs). Set Line Spacing (purple arrow below) to single. Click "Okay" on both of your style boxes to close them.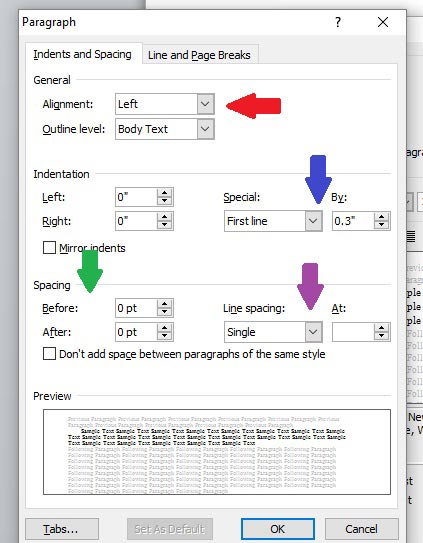 Your manuscript will now look something like this: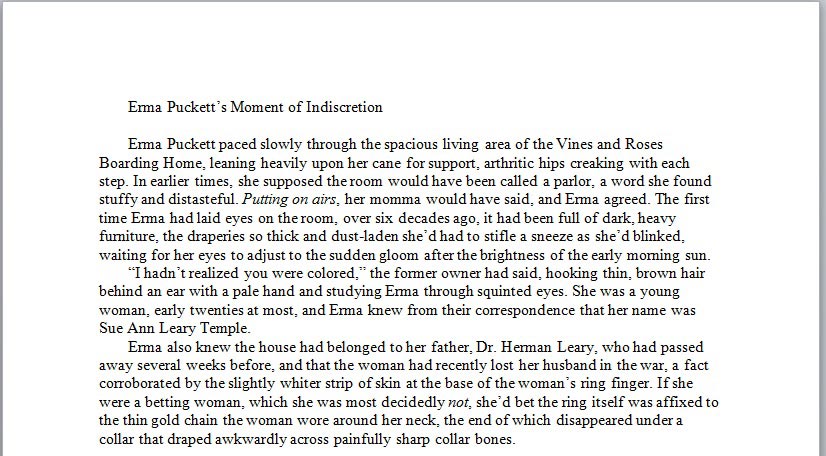 Next: page breaks. Click the pilcrow (paragraph symbol) on the Home toolbar to show your formatting. Scroll to the end of your first chapter and space down twice. Click Insert on the toolbar (red arrow below) and Page Break (green arrow below).
You'll see the break inserted (blue arrow below), and be taken to the top of the next page, where you'll type your heading for the next chapter. Do this at the end of each chapter and you'll have a nicely spaced manuscript without hitting "Enter" repeatedly, which can cause problems when uploading to Kindle.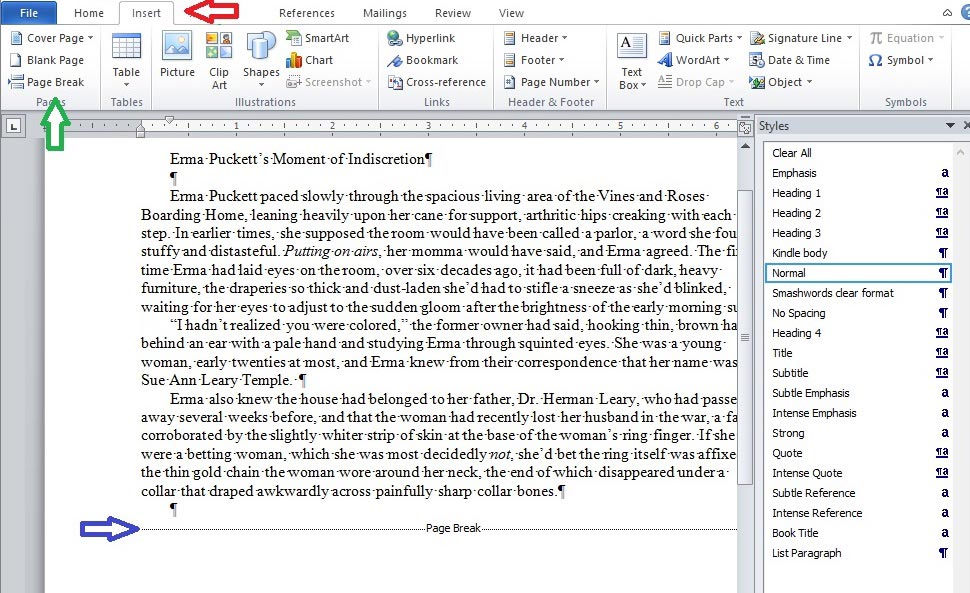 Next: chapter headings. See how my chapter heading is indented? Review how to fix that by clicking on the Tips for Formatting Your Book Correctly in Microsoft Word link above.
Then go back to Change Styles and click the arrow by Heading 1. Again, click to Modify.
Another box pops up showing our default settings. Go to Formatting (red arrow below) and change it to Times New Roman 14 (or 16, but that's going to look really big on a Kindle). See how we have space before and after again (blue arrow below)? Go up to the set of arrows again (purple arrow) and click to get the spaces down to zero. Click to center your heading (green arrow below). Then click "Okay."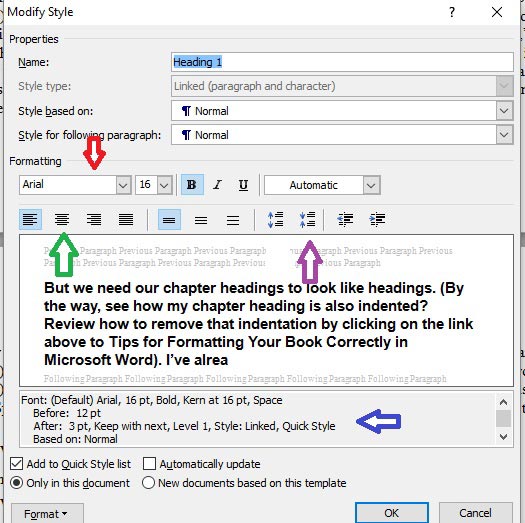 Highlight your chapter heading, then go back to your styles box and click Heading 1. Presto! Your chapter heading is centered, Times New Roman 14 font, with no extra spaces above or below. It should look like this:

Do this for each chapter heading.
Once you have your chapter headings formatted go up to your Table of Contents page (which should be before your first chapter), place your cursor where you want the TOC inserted, and from the Home page click References (red arrow below), then Table of Contents (blue arrow below). From that dropdown, click Insert Table of Contents.

This brings up another box.  If you click Modify (red arrow below), you're taken to modify font styles again. Ours are already set for Times New Roman 12, so we'll leave it. I like my TOC centered so I set that and click "Okay" to exit the "Modify" box.
Make sure the box that says Show Page Numbers is NOT checked (green arrow below). eBooks don't have page numbers. I only have one level of heading so I set the dropdown to "1" (blue arrow below). Click "Okay."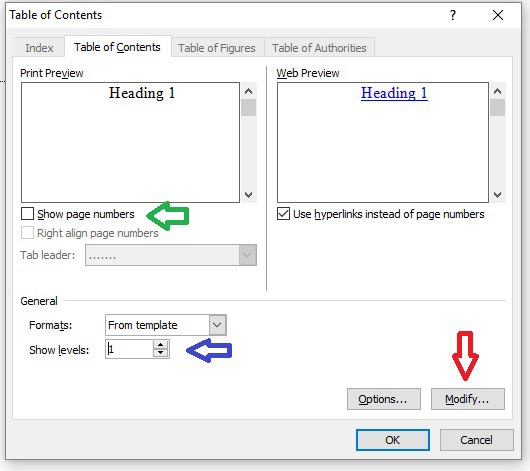 You now have a linked Table of Contents. Hover your mouse over it and you'll see it's "live."

There you have it: down and dirty Word formatting for Kindle. Feeling more confident? Check out this article for ways to make it prettier.