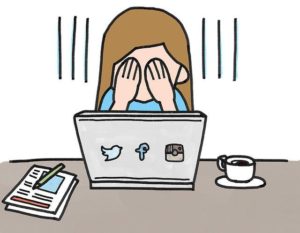 I joined Twitter in 2008. It looked like a fun way to connect with people and share blog posts. I made a lot of mistakes at first — I got spammed, I got hacked, I got suspended…and then I got smarter. I stopped automatically following anyone who followed me. I learned how to recognize the red flags that pretty much guaranteed the person behind the avatar (if it was indeed a person) had no interest in two-way communication. Many things about Twitter have changed since then. A lot of users have gotten savvier about Twitter etiquette since 2012 when I first posted about this topic, but I continue to heed a few basic signs (and a few new ones) before hitting the "follow" button. Here's why I'm still not following you:
1. You won't tell me anything about yourself. Twitter gives you 160 characters for a bio. KS Brooks even wrote this great, handy post about how to spiff it up. If you don't include a bio, I'm less likely to follow you. It makes me think you have something to hide. Do you?
2. You don't trust me. Hey, your tweet looked interesting. It made me laugh, it made me think, it made me want to click right over to Amazon and buy your book. Now I want to follow you on Twitter and read more of your wit and wisdom. But…I can't! You sent my follow request to a TrueTwit validation app; now I have to pony up a captcha code and a DNA sample and… Yeah, not doing it. TrueTwit is a waste of time and money and it alienates your potential social media followers. Please stop.
3. Your avatar is Twitter's default "egg." Not adding an image tells me you're either a spammer or you don't care enough about your social presence to put a face on it. Really. It's not that hard. Don't be an egg.
4. You follow a lot of people but no one is following you. This tips me off to one of two things: you're selling something not a lot of people want, or your sole purpose for being on Twitter is to shout your message (repeatedly) through a tiny, tiny megaphone. Which leads me to…
5. You are clearly just here to sell me something. If you're hawking a product or service, an unrelenting hard-sell approach can turn a lot of people off. Don't forget the social in social media. Even though Twitter tends to be a flash-and-dash sort of place, and yes, I've dropped a few "please buy my book" posts, it's still a community. Say hello you before you offer to change my life, make me rich, or show me how to drop ten pounds of stubborn belly fat. Or at least post a cute kitten video once in a while, for Pete's sake.
6. Your auto-responder is spam spam spam. Have you ever followed someone and gotten one of these: "Luv u 4ever 4 following me! Like my FB page! Buy my bk now! Lose 30 lbs a wk!" Sending a direct message to a new follower can be a nice touch, sometimes, but think about what you're doing. Do you rush up to strangers on the street and shove your book in their faces? Do you wander into random houses at dinnertime and plop your paranormal dystopian zombie mystery romance on the kitchen table? Lord, I hope not. At least exchange a few pleasantries first. And bring something good for dessert.
7. Your tweets are a crazy salad of hashtaggery. I appreciate that you want to capture every market imaginable, but a hashtag pileup makes your message read like William Shatner is reciting it. #Readers will #understand that your #mermaid #cozy #mystery #ebook is a #free #deal #right #now sans the hashtag mess. You're a writer. You can be creative in 140 characters without doing that to people.
If you're on Twitter, what makes you hit "unfollow" faster than a Kardashian can divorce her husband?