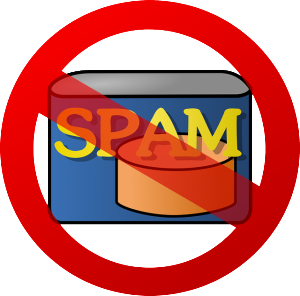 You know how sometimes you click the follow button on somebody's Twitter profile, and before you know it, you've got an e-mail saying they've sent you a direct message on Twitter?
You know where the rest of this is going, right? If you click the link in the e-mail, nine times out of ten, the direct message will be a buy-my-book request. Here you are, not knowing this person from Adam and/or Eve (except maybe you ran into them in a like-fest), and already they're pestering you to buy their book. You have no idea whether their book is: 1) in a genre you like; 2) about a topic you're interested in; 3) readable. And yet the first thing this other author says to you is, "Hi! Thanks for the follow! Be sure to buy my book!"
Um. Thanks, but no.
D.J. Lowbridge wrote a blog post containing six reasons why you shouldn't DM people to buy your book. You can read the whole post here. But my favorite is number 3: If you're sending people direct messages to buy your book, you probably aren't writing your second book.
Many, many indie authors – from heavy hitters like Joe Konrath and Hugh Howey on down to, well, me – recommend that you have more than one book on offer. Why? Because if somebody reads one of your books and likes your writing style, they are likely to go looking for another book by you, and buy it. And if they read that one and like it, they'll be back to look for more books by you, and buy those. Lather, rinse, repeat. Pretty soon, instead of selling your books one copy at a time, you're selling multiple books to the same person. And you know what we call that person, right? A fan! And fans tend to be vocal about the things they like – which means their word-of-mouth can gain you more fans. And so on. Pretty soon your fans are doing your marketing for you. Sweet, huh?
And if you can come up with a plot for a series, it's even better. Hook your reader with the first book in the series, and you've pretty much got a guaranteed readership for all of your subsequent books in that universe.
But first, you have to write all those books. Which means that if you're pestering every person who follows you on Twitter to buy the one book you have listed on Amazon, you're wasting time. Get off the internet and write, already.