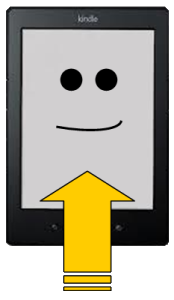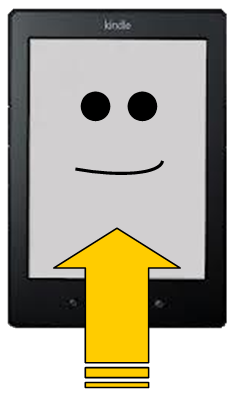 Love it or hate it, Amazon is always looking to try new things to benefit their customers, which of course usually benefits the sellers as well. Recently I got an email from them about a new opportunity for books sold via their Kindle Direct Publishing (KDP) program. Most of you are familiar with their "Look Inside" feature that allows potential readers to see the first few pages of a book, but this is only while on the Amazon site itself. The new feature, the Kindle Instant Preview, lets people read a sample of your book directly from your own webpage.
For the reader, it's amazingly simple. Just click on a link. No signing up for anything, no downloading anything, no jumping through hoops. Rather than being directed away from your website, where they could very easily get distracted by something shiny, they can now read the sample directly from your page, and still be on your page once they've finished. If you've got an extensive backlist, they can go from one sample to another while never leaving your page.
Sound easy? It is. Easy for you, too. Here's the process:
1.       In your browser on Amazon, find your Kindle book.
2.       Click the "Embed" link next to the other sharing options to get the Kindle instant preview.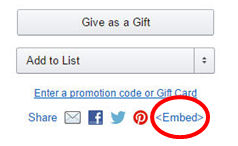 3.       Copy the URL or embed the HTML code that's provided in a pop-up.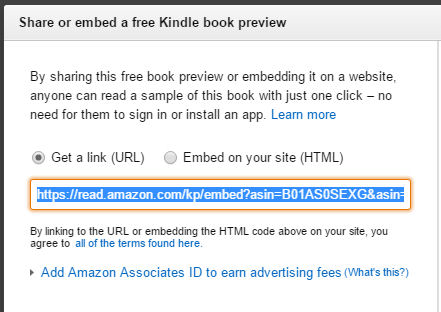 4.       Add the link to your webpage wherever appropriate.
Boom! You're done. This same link can also be shared via email, text, or other apps. The sample has adjustable font sizes so the reader can choose a view that works best for them. Kindle also includes a direct "buy" link, just in case the reader has gotten so wrapped up in the sample they can't wait to read more. I don't know about you, but it sounds like a win/win to me.
If you're interested in putting this previewer feature into your blog's sidebar, check out the tutorial from AC Flory here.