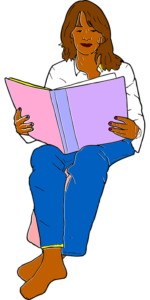 In my most recent post, I wrote about my frustration with promotion and marketing and how it had taken a big bite out of the joy of writing. I gave myself permission to ignore that aspect of my life for the time being.
While that decision gave me a sense of relief, it did not, as I expected, allow me to plunge myself blissfully into those activities I had given up. Routines are difficult to break and I found myself staring at my keyboard, playing solitaire, and generally wasting time or frittering it away with activities that gave me none of the pleasure I had looked forward to.
Something prevented me from diving into enjoying those books I wanted so much to read. Was it guilt? Inertia? Had I forgotten how to enjoy reading just for pleasure? The reading I had done over the last several years had all been for more altruistic reasons. I owed someone a review. I helped a writer friend by beta-reading a new opus. I read to learn something writing-related. You get the picture. I did not read purely for pleasure.
That changed a week ago when hubby and I were unexpectedly called to babysitting duty. Number one grandson was enrolled in one half-day and one full day of preschool. So, with cooking and cleaning done and having limited access to a computer, I opened my Kindle and immersed myself in the reading I had been putting off for a long time. There were plenty of choices, books I had downloaded over time, intending to enjoy them.
So, with nothing better to do, I looked at my list of books, picked one, put up my feet, shut the rest of the world out, and, dare I say it – read – for pleasure. In the two days we stayed there I read three books. They were short, it's true, but I finished all three. No guilt. One of them was so engrossing I kept it open and jumped up only when I had to turn on the oven or attend to some other minor interruption.
THREE BOOKS! In the past I might read three in a whole year. It was bliss. I finally reconnected with that feeling of escaping into another world, of not needing to attend to any "shoulds", of the joy I'd known before my writing days when a good book had no strings attached. Oh, the freedom.
A side benefit has been that I am once more aware of what led me to be a writer. I realize I had/have stories to tell, stories that may bring the same pleasure to others as some of the ones I have read brought to me. It reinforces my earlier decision to let go of the need to push promotion. I never expected to get rich with my writing. Now I can focus again on writing just to give pleasure to others.
Yes, I understand that I need to find readers to accomplish that goal. It just isn't the bottom line any more. Writing is.
Now, I have three reviews to write, because, in spite of it all, I still want to do for those authors, whose books I have enjoyed, what I hope my readers will do for me. Hey, it's not ALL fun and games.