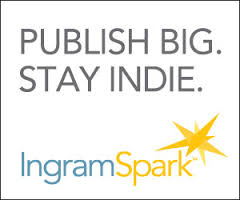 A couple of years ago Lynne Cantwell gave a great overview of three of the most popular choices for paperback distribution:  CreateSpace, Lulu, and IngramSpark. As Lynne explained, while all three have benefits, IngramSpark, owned by Ingram Content Group, "has the most robust distribution chain of any of the three POD services, as its parent company is the largest book wholesaler in the world." In fact, when you choose Expanded Distribution for your paperbacks through CreateSpace, the business of printing and distribution actually goes through Ingram.
"Wait," you're thinking, "if Expanded Distribution is sourced out to Ingram, why don't I just go directly through Ingram?" Or you might not be thinking that, but I was, because going directly through Ingram – in this case, their subsidiary, IngramSpark – offers some benefits you just can't get with CreateSpace.
1. In general, bookstores won't consider stocking books that a) aren't returnable, and b) aren't offered at a discount. CreateSpace doesn't allow for either of those; IngramSpark allows for both. Additionally, even set at a 40% discount, I earn more from a sale through IngramSpark than I do through CreateSpace's Expanded Distribution. Why? Because selling directly through IngramSpark cuts out the middleman (CreateSpace).
2. Laurie Boris wrote a great explanation of ISBNs here. As Laurie explains, "If you opt for a free ISBN from CreateSpace, online vendors of your print book will list "CreateSpace" as the publishing imprint." She also says, "In general (and this comes directly from CreateSpace's website forum), bookstores are less likely to stock books published by CreateSpace, even if you've opted for expanded distribution." I knew that, but what I hadn't considered is that even if you own your ISBN, your book is listed in the Ingram catalog under the CreateSpace account.
Think about that for a minute. You buy your own ISBNs so bookstores will consider stocking your books, but to order your books, potential buyers still have to look under the CreateSpace account on Ingram. That didn't make much sense to me.
So, long story short(ish), I decided to take the plunge and use CreateSpace for Amazon sales, but IngramSpark for distribution to other stores.
What I've learned:
1. When you distribute through both, Amazon will still order your books directly from CreateSpace (profit for them), so customers purchasing your paperback from Amazon will get the CreateSpace version. I had wondered how that worked; now I know.
2. One of the drawbacks to distributing via Ingram is the fee. It's $49.00 to upload your book to IngramSpark, and there's a $25.00 fee anytime you need to upload a new version (for corrections, etc.).
BUT if you sign up to receive the IngramSpark newsletter, you'll frequently receive coupon codes that allow for free uploads or revisions. In the two months I've been signed up, I've received two different coupon codes, each valid for a month or longer – plenty of time to get my books uploaded.
3. You don't necessarily have to upload your books to Ingram. Surprised you, didn't I? But it's true. If you already have your books available through CreateSpace and you own your ISBNs, first go set up your IngramSpark account, and then go remove your books from Expanded Distribution on CreateSpace. After about a week, email CreateSpace and tell them you want those ISBNs moved from their Ingram account to yours.
Within a few days you'll hear back from CreateSpace asking you to verify that you want them to contact IngramSpark to have those ISBNs moved from their account to yours. I confirm but then always clarify (because I'm paranoid), that I do still want my book on CreateSpace, just not through Expanded Distribution.
Wait a few more days, then contact IngramSpark. You can call, email, or live chat. I prefer live chat, because if you get really lucky, you'll find someone who confirms they were contacted by CreateSpace and then offers to simply move your books right on over from the CreateSpace account into your account. If that happens, within a few hours you'll get an email from IngramSpark to come and approve your proofs.
If you're not so lucky, you'll get someone who tells you to fill out a Title Transfer Addendum, which you can find at the bottom of this page Title Transfers page. You'll print it, fill it in, then scan and email it back to [email protected]. If you fill the form out correctly, within a few days you'll get an email from IngramSpark asking you to approve your proofs. I say "if you fill the form out correctly" because I'm apparently deficient in filling out really simple forms, so it took me longer than it should have.
I'm still working out some bugs (changing prices, etc.), but overall it was a much simpler process than I'd anticipated.