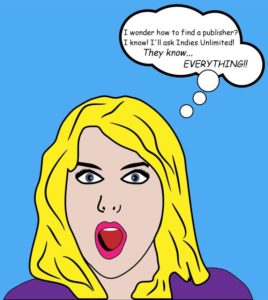 We get lots of email here at IU. Sometimes we get kudos (we like those a lot!). Sometimes we get questions we can answer. We love those, because we are here to help people achieve their dreams of being published.
But sometimes we get questions that would take hours to answer, and honestly, folks, we work for free and just don't have that kind of bandwidth. Often they go something like this:
Hi Indies Unlimited,
I've written a major groundbreaking book and I need help finding a publisher. Can you help me? Who would you recommend?
Or this:
Hi Indies Unlimited,
I've written a great novel. I've heard I can't get a publisher to look at my work unless I have an agent, but I don't know where to find for one. Got any tips?
Or even this:
Hi Indies Unlimited,
I have written a fabulous book. Can you publish it for me?
Our staff is full of kind, caring, long-suffering people, so we don't ever respond to these types of questions with the sort of weapons-grade snark we would like to use. Instead, here is a version of IU's official response:
Dear Author,
Indies Unlimited is not a publisher. Therefore, we cannot publish your book for you.
As far as assisting you with finding a publisher, we have only one response for that: Indies Unlimited is geared toward independent authors. The word "indies" is in our URL because we celebrate and assist authors who want help with publishing their own work. (Granted, "indie" also includes authors who have been published by small, independent presses, but that's not where our focus is.)
Every author on our staff is self-published. Some of us have been traditionally published in the past, but we (as well as a bunch of big-name authors) have all bailed from traditional publishing. We think self-publishing is better: better for authorial control, better for getting a book out to readers more quickly, and better in a whole host of other ways (here's a wonderful example).
In short, the only publisher we will ever recommend is YOU.
Please don't say you could never publish your own book. It's surprisingly easy to do these days. We've all done it – and we have written tons of tips-and-tricks articles to help you figure out how to do it yourself. In fact, we have an entire resource page right here that will guide you through the self-publishing process step by step.
Also, please don't confuse self-publishing with using a vanity press like one of Author Solutions' many imprints. We did a month's worth of articles a while back that explained why this is a Bad Idea. The bottom line is that there are a lot of shady operators out there who will promise to hold your hand through the publishing process – all while they're fleecing your savings and making sure your book will never have a chance to be a best-seller.
We're not saying that going indie is easy. Publishing your own book is hard work. But so is finding a publisher, and the odds are that you'll still be responsible for doing all your own publicity. And, of course, there's no magic way to find an agent or a traditional publisher, either. There is lots of information about those topics on the internet, and we recommend you do a web search to find it. Just make sure you do your homework and learn how to spot a publishing scam before you make any commitments.
Good luck with your search. And when you're ready to tackle self-publishing, come on back to IU. Check out our many posts on manuscript formatting, cover creation, blurb writing, promotions, and lots more. If you have questions then, feel free to ask us – we'll be more than happy to answer them.
Love, Indies Unlimited