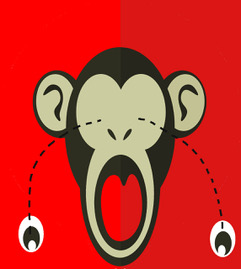 All right. This is not an essay from an expert telling everybody about better writing technique. This is a writer complaining about all the dratted self-styled experts who have nothing better to do than find arbitrary ways to complain about our work.
Case in Point.
I write, "Her eyes dropped to the floor." And my smart-*ss editor comments, "I hope she picked them up afterwards."
I suppose I'm not allowed to say, "His eyes shifted to the left," in my Fantasy novel for fear of a comment about there being no transmissions in feudal times.
What's Wrong With Metaphor?
I really hope some "expert" will sign in to the comments section below and give me one good reason why I shouldn't say, "He flicked a hand towards the door, and their eyes turned in that direction."
If it were only a few idiot reviewers and graduate students desperate for something original to spout about in their theses, I wouldn't mind. The trouble comes when enough of them blather one of these self-created rules around the echo chamber to the point where readers start to pick it up. Then you have a bunch of readers who are sensitized to the form, and every time they see an example, they are tossed out of their connection with the story to say, "Oh, yes, there's one of those whatchamacallits. This guy must be a bad writer."
So in the end, we have to stop using a whole range of useful expressions for a while, until the fad dies away.
Descriptors, for Example
Remember the campaign against adjectives and adverbs? A few years ago, there were supposedly knowledgeable people stating that you should only allow yourself three adverbs per chapter. Well, I can write without adverbs. I can say, "He glared at her, a frown on his forehead and a sneer on his lips." But couldn't I just say, "He glared at her suspiciously," and get on with the story? Yes, I know. Show, don't tell. But sometimes the showing just takes too many words. There are all sorts of recognized shortcuts to get the job done faster and smoother, and as long as the reader and the writer agree on them and they are not overused, why not?
Why Not?
Because somebody has committed to producing a blog on writing every Tuesday, and it's Monday at midnight and he or she can't think of anything intelligent to say. So we get people writing whole blogs on the subject of "Don't Make People Do Stupid Things With their Eyes," or some such nonsense. When you read them, they place works like, "I will lift my eyes unto the hills from whence comes my help" (Psalm 121) on a par with, "Suddenly, all the eyes in the room rose from their fixed positions on the floor to stare at him." One is beautiful poetry, one is execrable writing, and eye movement has little to do with it. (What's that? You want a hint? Umm…well, one of them uses "whence." Is that even a word?)
And it comes to me that these people have no idea about good writing and bad writing and how to distinguish between the two. Instead, like so many academics and critics before them, they impose rules that every writer must follow, so that his or her writing can be analyzed as perfect. Or not. And incidentally so those who create the rules can feel smug.
Which then leads to comments like, "Editors expect writers to mean exactly what they write." (Yes, that's a direct quote) In other words, if you are writing prose, then you must write exactly, perfectly, literally at all times. And heaven help you if you use simile, metaphor, hyperbole or any other artistic form of writing. (And never, ever, ever use three adverbs in a row.)
My definition of Philistines is, "People hostile towards things they know nothing about."
Bah, Humbug!
(Oh, and don't use exclamation marks, either.)