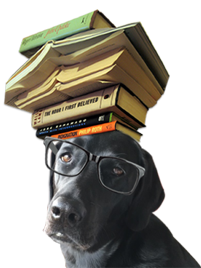 Today we have a special treat – my first ever interview! Since the interviewee is a dog, like me, our admin thought it would be a good idea to call me in for this one – you know, so I could see eye-to-eye, so to speak, with the subject. In case you don't know who I am, I'm Mr. Pish, the IU mascot, and author of a bunch of books – more than I can count on my paws, anyway. And today I am excited to interview the lovely black Lab – BookDoggy – about her new book promotion site.
Hi there, BookDoggy. Welcome to Indies Unlimited. I guess I need to start by asking: how did a nice dog like you get involved in promoting eBooks?
I didn't think authors were getting their money's worth from most promotion sites and I thought I could do a better job.
A few years ago when authors promoted their books on various promo sites the conversation afterward was about how much money they made and how many books they sold. Covering the cost of the ad was never in doubt. That's changed. Now, with the exception of ads that run on one particular promotion site (that shall not be named), authors often talk about taking a loss and not covering the cost of their ads. Many of them are content to hit the bestseller charts in their categories. I don't agree with this formula. The creator of the work should earn the greatest return. Not the promotion site. An ad has to produce sales for the author and not just cover the cost of the ad. And, that should be just the beginning of what a promo site can do for an author. I knew there were other ways that a promotion site could help authors. So, I wrote it all down and came up with a plan. And, BookDoggy was born.
Ah! A plan is good, especially if it involves treats. But tell us more. How is BookDoggy different from other book promotion sites?
We have three things we do for authors.
First of all we help you promote your books. We know we can help sell books. In our test runs, we exceeded our expectations over and over again in terms of the amount of clicks we were getting on individual books. And, in keeping our costs, low we know we're the best deal out there for getting eyeballs on authors' products. That part is actually quite easy.
Secondly, we keep your book on our site for several days after your promotion. Our site is very easy to navigate, and we're constantly switching books around to maximize visibility. So, even if your book goes back to its regular price after your promotion, we'll continue to get you traffic.
And thirdly, our mandate is to not only help authors sell books but also to connect them with their readers.
I love hearing from my fans. Can you tell me more about how you do this?
Yes, I'd love to. We want to tear down walls. Indie publishing always was and still is about eliminating barriers and helping readers find quality literature easily. We have a number of ideas we're going to integrate into the site over the coming months that we think will take down some of those remaining walls and help readers and authors connect. The first one was very simple. When we list an author's book, we also list their contact information. The author supplies either their website or blog address or their Amazon author page. So, readers have the ability to directly connect with an author. Not through a designated page on the promo site. We send your reader directly to you.
In coming months, we have different features coming that we hope will move beyond just a click and peek, and turn into engagement between the author and reader. As we introduce these features, there will be no additional charge to the author. The price will remain that same. It's too early for me to tell you exactly what we're going to do, but I can tell you it's either going to be a smashing success or I'll be sitting in the corner with my tail between my legs.
Well, you work very hard. Hopefully your humans will keep the treats coming even if those features don't work out. Your subscribers aren't separated by genre like other sites, why is this?
Because readers read in different genres. We know this because we asked them. Some said they didn't but when we polled them, there were several "Aha" moments. Typically we'd hear:
"Yes, I enjoyed that suspense novel  even though it wasn't one of the romances that I usually read."
"Oh, was that young adult? I liked that too."
"And, yes I read self-help a few times a year, but that doesn't really count."
Many are reading titles right across the board even though they don't realize it. Our newsletters typically have a broad section of different genres. Our readers don't discriminate based on genre. They're just looking for good books.
Speaking of good books, what kinds of books can readers expect to find on BookDoggy?
Everything up to mild erotica. We're contemplating building a sister site for erotica books down the road, but for now we're sticking with everything else. This includes fiction and non-fiction, and if there's something cutting edge or different, we want to be the dog that promotes it. There are so many stories about books being declined by traditional publishers and going on to sell gazillions of copies when they self-publish. We want to introduce our readers to those books and their authors.
I like that! I also like that your pricing to authors is $8 to advertise a free eBook and $10 for a discounted eBook. Why so cheap?
Because there are a lot of authors who have written terrific books and can't afford to get the word out. So the new dog in town is going to help them.
BookDoggy has been live for just a short period of time and we've already had several re-orders from authors who are happy with the initial results from the promos they had with us. So, we know we can do the job.
I understand you have an exclusive program that is being unveiled today. That is exciting.
It is, yes. And, you guys at Indies Unlimited are the first to hear about it. For a limited time, we're offering promotion opportunities at no charge to selected authors.
No charge, like in free? That's good. I love free stuff.

We're happy to do it. If you have a mailing list of 300+ subscribers and you're willing to send out our prepared newsletter, we'll feature your book in our newsletter and on our website for free. And, we'll give your subscribers the opportunity to win a $100 Amazon gift card.
Ooh! $100 on Amazon could buy a lot of dog bones! Tell me more, please.
Just click here and scroll down to the No-Charge advertising section for details. It's really that easy!
That does sound easy. So, what do you like to read, BookDoggy?
I'm currently re-reading one of the classics – The Canine Mutiny. Sorry, couldn't resist.
My passion is self-published books. I love a "find." I love discovering a book that has yet to hit its peak and then spread the word. That's basically what I'm trying to do with BookDoggy.
Since you are clearly a really smart dog, do you have any book promotion tips for authors?
I've noticed a few things authors might find helpful since launching BookDoggy.
Weekends are quieter than weekdays for traffic,
Readers are as interested in new releases as much as they are in free books,
And new releases should be priced at 99 cents to gain maximum visibility. $1.99 isn't a whole lot of money, but 99 cent books receive significantly more traffic.
Oh, and, readers love clicking on our "Connect With This Author" button. They want to find other books by the same author and if the author has provided her or his website or Amazon author page, it's a great way to connect the two of them.
How did your launch go? Was it dog-gone good? (Sorry, but I had to!)
I must tell you, we had the usual glitches during our first week, but our site traffic kept doubling day after day. We thought this was a reporting glitch, but thankfully it wasn't. By week two we had to upgrade the service package with our provider to handle the increased traffic. It was a great problem to have. So, bring on the glitches, we're having a great time!
Please tell authors where they can learn more about BookDoggy.
We have a special page for authors here. Folks can go to BookDoggy.com to discover great new books, and also to enter in our free drawings for Amazon gift cards.
Thank you for being here, BookDoggy! I hear there are some MilkBones in the IU cafeteria. Let's get them before the minions use them to garnish their gruel.
---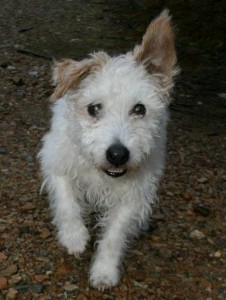 Mr. Pish is known as the Traveling Terrier and is the author of educational children's books, activity books, calendars, and even an app. You can learn more about Mr. Pish at his website and his Author Central page.
---
Indies Unlimited does not endorse or support any specific providers of products or services.