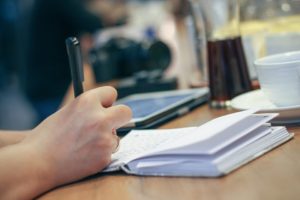 Sometimes workshops do not go according to plan. Sometimes that's a good thing.
Recently I had the privilege of conducting a two-evening workshop on writing as a tool for suicide prevention with a group of five youth. A town nearby had experienced a troubling spate of teen suicides over the past year. A youth worker from the area asked me if, as a writer, I could put a workshop together on how writing might be a prevention tool.
I expected 'average teens'. The group proved to be much more challenging than that. All five were extremely bright and all had used writing in one form or another prior to attending. All of them demonstrated an aptitude for writing that astonished me. Also, they had all, personally or by association, been touched by suicide. Their reasons for coming were much more personal than I had prepared for. It became apparent that my agenda needed to be adjusted on the fly.
My original plan had been to spend the first two-hour session explaining and exploring the many kinds of writing and how each one might be helpful to someone experiencing emotional difficulties. I spent that evening, instead, using their personal stories to connect to the theme of self-help. We had a poet, a diarist, a novelist, and a memoirist.
The level at which they shared with me, and the trust they showed me, made me acutely aware that I must not betray that trust. To insure that the evening did not devolve into a group therapy session that might possibly be harmful (I am not a therapist), I had to establish boundaries as I went along. I emphasized that they need only participate as much or little as they wished, that I had no expectations for them. Their experiences required a deeper sensitivity. They needed to have control over how they would be within the group.
When one member ventured that she sometimes preferred isolation when in care, I used that to explore the difference between isolation, which is often imposed from the outside, and solitude, which is chosen and controlled by the individual. This led to a couple of "aha's" for other members.
The toughest part of that first evening, for me, was to honour their stories and experiences and yet keep to the theme of using writing as a form of self-help. I walked a fine line between respecting their stories and relating them back to how writing about them might be helpful.
By the close of that first session, we had managed to look at all the aforementioned forms of writing. We also explored how fiction could help examine experiences and issues from new perspectives. This aspect had not occurred to all but one member. We discussed privacy concerns regarding paper diaries or writing, how digital writing and media could affect who might find and read what they wrote, or how they could protect it from prying eyes, such as with passcodes, the cloud, etc.
I explained that they could write letters to those already gone, and that they could address those still living, but need never have that person read what they wrote. And that their writing need not be factual or truthful – that the benefit was often in the act of writing, not necessarily to effect change in the addressee, though that, too, could be beneficial. I emphasized that the act of writing was for the benefit of the author, for no one else. They had control.
At the end of that evening, I asked them to try to write a short piece at home, even if it was only a sentence, in a genre that they had not previously used, and to bring it back the next evening. I assured them that they need not share it unless they were comfortable doing so. They gave me some dubious looks, but no one objected.
I spent a sleepless night looking for new ways to get back to the theme of writing as a tool for self-help. Another evening of navel-gazing would not achieve what I had set out to do. I needed something that would both relate to writing and direct their attention away from their individual problems. I needed a way to show them how creative writing could be a tool that could take them in a new direction, one that looked beyond themselves but might still open new ways of looking at personal situations – something akin to "transferable skills".
What I came up with proved to be a hit. I created six "characters"; a name and three or four words to describe their personality (Jane – bubbly, popular, loves crafts; Ned – loner, mediocre student, bullied, loves nature), each on separate strips of paper. On other strips I printed out ten healthy coping mechanisms, (a walk in the woods, a movie marathon at home, bake a cake, etc). I placed them on the table, asked each participant to choose one character and one coping strategy, and use those to write a short piece.
What they did with it was astonishing. No one chose the character closest to themselves. They got into the spirit of looking outside the box, of playing with something new. All willingly read their work aloud when they finished. I offered comments aimed at showing how I understood what they wrote, and finding a positive slant on it that related it back to the theme of writing as a tool for self-help or self-exploration. The discussion was lively and relevant. The idea of creatively looking outside their personal experiences as a way to explore feelings and situations resonated with them. They had fun.
While they did not state it directly, I sensed a new freedom in the members to be creative. I think they understood that sometimes not everything has to be personal, and that imagining can be a useful tool for all kinds of situations … and that sometimes the old methods just hold us back.
When we finished, we had 30 minutes left. One participant said, "Let's do it again." And they did -more quickly this time, with new characters and coping choices.
This was certainly not the workshop I anticipated or planned. But I am happy to say I deem it a success. These kids came in distrusting, even sullen, and left looking happy and chatting cheerfully. The one I had been most concerned for thanked me and told me she had enjoyed it. I believe that, in some small way, I made a difference. And I will not be surprised to see at least one of them succeed as a writer.