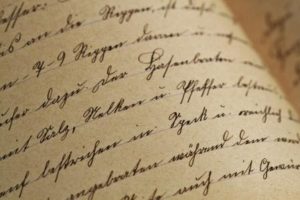 I ran across this question recently in a Facebook group, and noted there was a lot of opinion on it. Some authors are vehemently opposed to using chapter titles, while others adore them. So, what's best?
Well, the simplest answer is that it's entirely up to the author. However, chapter titles do tend to be more prevalent in certain genres, so if that's one you write in, you may want to adopt them.
First, let's make sure everyone is on the same page. A chapter title is simply a word or phrase that isn't a number to demark your new chapter. Usually it's descriptive, and always it's optional. Some people consider including names to denote changing point of view as a chapter title. However, for the purposes of this article, we're not going to include them. Why? Because, POV changes, much like the number, are not optional. If you've got an alternating POV, the reader needs to know who's speaking. Why are chapter numbers mandatory? Well, imagine if the reader last read chapter 22, and their bookmark falls out (or they accidentally advance the progress bar on their eReader), they need to be able to go back to chapter 22 and look for their place. This is functional information.
Chapter titles tend to be descriptive of the chapter, foreshadowing what is to come. For example, the first chapter title in my book Life First is "Deception". A later chapter title is "Murphy's Law on Steroids". Chapter titles can be funny. A lot of young adult books do this. I picked up my daughter's copy of Percy Jackson: The Titan's Curse, and found the first chapter title is "My Rescue Operation Goes Very Wrong". That is descriptive and adds a note of humor. Another chapter title in the book is "I learn how to grow zombies".
For readers who enjoy the chapter titles, it's a great way to get a peek at what's ahead.
Gordon Long mentioned that chapter titles enhance the salability of your book and I would tend to agree with him. When people check out the table of contents, it's great to see something that gives a descriptive feel of the book. As a reader, I like chapter titles to help me figure out where something I read before was. For example, if a particular event happened that's referenced later, I'll tend to flip to the list of chapter titles, and based on the chapter title, I can figure out where things are. When I was reading my daughter the last Harry Potter book, we came upon the chapter titled, "The Prince's Tale", and I turned to her and said, "This is my favorite chapter." I knew instantly what the chapter was about, having read the book previously. And even had I not read it previously, the chapter title explains clearly what it's about.
So, how do you create a great chapter title? Well, ideally, they'd all be fabulous and fun and make the reader think, "I want to know what happens." The chapter titles can reference things only readers of previous books would know (as in "The Prince's Tale" example). As authors, we can try to make every chapter title awesome, but sometimes, it's just good. For people who want to use chapter titles, I recommend writing a draft chapter title when you start writing the chapter in the book. Writing it at the time you write the chapter serves two purposes. One, it means it's done now, and you don't have to do it all at the end. But two, it can help you focus as you write. Your chapter needs to be about that. If you realize your chapter's not about that, you can change the chapter title, or move it to a different chapter, retitling the current one.
If you write short chapters like James Patterson (some of his books have upwards of 100 chapters), and the thought of titling so many chapters feels daunting, you can consider breaking the book into sections, and titling each section (of 10 chapters, perhaps) with one theme. But those chapters should stay on that theme. Or, if you have 70+ chapters, you may want to scrap titles altogether.
I mentioned earlier that certain genres are better known for chapter titles. Both young adult and fantasy novels tend to see more chapter titles than other genres. However, any genre can use them. The author just has to like doing them, or think they add to the aesthetic. If you do decide to do them, look at chapter titles from other books in your genre. See what kind of vibe they give and go for that.
As I mentioned earlier, chapter titles can help readers anticipate what's coming in a chapter. They can also be used as a marketing tool.  JK Rowling provided chapter titles in advance of the release of the later Harry Potter books. Obviously, Potter had ravenous fans seeking any details, as the book series was already massively successful. But even with just a few fans, the chapter titles can be used to pique reader interest, especially if they're great chapter titles.
So, that's the skinny on chapter titles. I hope that helps.