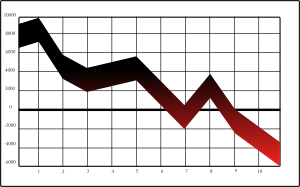 One of the most common questions I see in writing groups and author forums is, "Why isn't my book selling?" There are, of course, any number of answers to that, including, "It's poorly written," "It's poorly formatted," Your cover is awful," and "You have to advertise."
There are also, however, some potential reasons outside of an indie author's control.
One of the most recent reasons has to do with audiobooks and Whispersync. Many indie authors have audiobooks produced through ACX, which are then sold on Amazon, Audible, and iTunes. Whispersync is a feature from Amazon that enables the reader/listener to switch seamlessly from the Kindle eBook to the audiobook. For example, if you stopped reading your eBook at chapter ten the previous night, you could pick up right where you left off and listen to it on the way to work.
Cool, right?
It was especially cool when the Kindle eBook owner could buy the audiobook on Amazon for $1.99. Initially, authors griped at the low price, but the benefit to having that low price was that many authors took advantage of the deal, and authors received royalties on both the eBook and the audiobook.
Recently, however, at some point over the summer, that special deal went by the wayside. Now Kindle readers who want the accompanying audiobook must pay $7.49 in many, if not all, cases. That's still a deal – many eBooks are in the upper teens and lower twenties. But it's a long way from $1.99.
There was no official announcement, or at least not one anyone with whom I associate has heard. But both authors and readers, on Kboards, as well as Reddit, and on the now-defunct Amazon forums, have noticed. Goodreads users have also noticed.
If you don't believe the price hike has negatively affected sales, pay special attention to those reader discussions. See all those readers saying they'll no longer buy the audiobook?
That helps explain decreased audiobook sales, but what about eBook sales? Indies Unlimited relies on facts, not speculation, but this is a topic that's gotten a lot of coverage over the last year or so. Authors all over the internet noticed a drop off through 2016, leading into 2017. Not a small one, either. More like a fall off a cliff.
While rumors and speculation are everywhere, there are some interesting articles worth a read. Data Guy, the anonymous co-founder of Author Earnings, discusses the drop here http://authorearnings.com/report/october-2016/, noting that while indie eBook sales have dropped, sales from Amazon publishing imprints have grown a great deal. Isn't that interesting?
Data Guy discusses several theories for the drop, one of which includes, "Amazon tweaks and optimizes their retail website, merchandising algorithms, and nightly recommendation emails on a continuous basis. Perhaps they've recently adjusted one or more of those in a direction that gives higher visibility to paid-for publisher featuring of traditionally-published eBooks?"
The Passive Voice blog shared a more recent Data Guy post, prompting Data Guy to join in on the comment section, where he reiterated the drop off in sales and stated:
"I think what happened is that the indie share of Amazon sales was getting too ridiculous (closing in on 50% of all Amazon purchases). So Amazon decided to pull some algorithmic merchandising levers behind the scenes (in their nightly marketing emails, for instance) to start pushing traditionally published eBooks at customers more aggressively (traditional publishers would probably say, 'more fairly')."
Cate Baum at Self-Publishing Review explains more about the Amazon algorithm here.
She also discusses what she calls MAMM (Make Amazon the Most Money), and states this is Amazon's "one objective."
She explains: "So if your book is 99 cents, but another book is selling at $2.99 but not as many as you, it's likely Amazon will recognize the $2.99 book higher in rank because it makes Amazon more money."
Price hikes, algorithmic changes to push readers toward the big publishing companies, algorithmic changes to favor higher priced books in the ranks. Any or all could lead to the drop so many of us witnessed over the last year.
What can we do about it? Fret. Worry. Obsess. Or just keep writing.