Indies Unlimited does not review books, but we do have a couple of renowned reviewers on staff. We thought a great way to celebrate indie writing would be to ask those reviewers for their top indie picks of the month. Here are this month's top picks from our experts:
---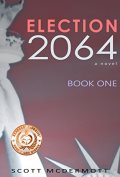 Election 2064 by Scott McDermott

"a satisfying and thought-provoking read … with the same intensity that would come from a good political thriller."
Read the rest of the review by BigAl.
Election 2064 is available through Amazon.com.
Continue reading "Indie Reads – Book Reviews for October 2017"