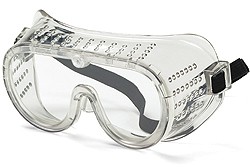 Guest Post
by Jordan Buchanan
Let's try a little experiment. Remember these?  <—
I know what you're thinking—you haven't seen those since chemistry class. Now imagine sticking a dime-sized piece of painter's tape on the center of the right lens before painting the outside surfaces of the goggles black. Once they're dry, pull off the tape and put those bad boys on. That's not too bad; you have to turn your head a lot and your peripheral vision is completely gone, but there's still that little opening to see through. But wait… there's more! Tape a piece of thin tissue paper over your peephole. All set? Awesome! Now boot up your laptop and write a novel. Will it be easy? No. Is it possible? Of course! All you need are a few tech tricks and patience. Lots and lots of patience.
I've been in the process of losing my eyesight nearly my entire life. Luckily, every time the situation seemed dire, there was a medication, treatment, or surgery that pulled me back from the brink. In 2009, though, I was certified legally blind. By 2013, I could no longer manage to perform the duties required of me at my workplace, and I joined the ranks of the disabled. As someone who'd worked for forty years and enjoyed almost every day of it, I didn't know what to do with myself. My charming husband reminded me of the writing I'd done as a hobby in the late 90s and suggested I get back to it. In hindsight — the only 20/20 vision I'll ever have — I believe his ulterior motive was to distract me from proposing home improvement projects. Still, the idea was intriguing, but I had my doubts. Could I handle hours at the computer? And what about proofreading? What if I typed gibberish and couldn't tell? After much wailing and gnashing of teeth, I reached the conclusion I had nothing to lose. I had plenty of free time on my hands and storylines forming in my underutilized brain. Being the stubborn woman I am, I decided to try.
After considerable trial and error, here's what helped me become a published indie author by 2015:
On my laptop, full screen magnification is my best friend. Depending on how bad my vision is on any given day (it fluctuates), I increase the display anywhere from 200 – 400%. Basically, the neighbors across the street could probably read what's on my screen through my window. Since I write erotic romance, I keep the drapes closed. They really don't need to know that much about me.
When I'm working in MS Word, if the magnification isn't quite getting it done for me, I open the View tab and amp it an additional 20% or so. Obviously a larger monitor is optimal; a 17-inch is as small as I can go. I confess I am sometimes jealous of those who can use tiny notebooks computers. They are so cute and should be pink and say Barbie on them.
On a smaller device like my smartphone, options for enlarging the display aren't as plentiful as on a laptop, but text, email, and web pages typically can be pinched and spread. Most effective is turning on reverse contrast — white print on a black background. For anyone with even mild vision issues, it's easier to read than black on white. What do I use my phone for? Quick Google searches are very handy on my phone using its voice recognition option. I also message knowledgeable friends for advice on various plot elements. Thank God I know folks who are willing to share their expertise on guns, poisons, mental health treatments, etc. Sometimes I even ask them questions relevant to what I'm writing.
I couldn't write or read without my Kindle. There was a gap of a few years between when I could no longer read print books and when I received my first Kindle Fire. Getting the gift of books back was life-changing! Using both reverse contrast and enlarged fonts, I'm able to read everything from classics to trash, but with only a few lines fitting on my screen at a time, I do have to swipe like a picky Tinder user. I email my manuscripts to my Kindle and proofread on there. Looking at the words on a different device helps errors jump out and it's good to see how the book will look on an eReader. Reading aloud also lets me spot missing or echoed words or phrases. My record for overuse of the word "just" in one chapter is an embarrassing nineteen.
As you could guess, with everything magnified to this extent, pages often don't fit on the screen of my laptop. There's a lot of sliding side to side and scrolling up and down that has to happen. It takes longer for me to write than it used to, and there's no getting around it. That's when the patience I mentioned earlier comes into play. There are also days I couldn't see to write if the words were billboard-sized and yeah, you got it, patience is called off the bench again. When two or three of those days string together, it's tough. Once in a while, though, I wake up and can see the time on the clock across the room, pour my own coffee without fear of scalding my fingers, and begin writing without delay. Those days are precious gifts and I revel in every one of them. You have to look on the bright side, make your own silver lining, and hang on to your sense of humor. When someone points out a typo — "eyetrocities" I've dubbed them — I have a ready excuse. "Oh, thank you, I didn't see that." When I wrote my hero had a bugle in his trouser front, however, no excuse ever invented would let me live that one down.
It is my sincere hope readers of this blog post never have need of these coping strategies. Most vision issues are treatable if caught early, so please see an ophthalmic professional regularly. My favorite literary quote, from The Little Prince, is "It is only with the heart that one can see rightly. What is essential is invisible to the eye." Although I embrace the sentiment, many beautiful nonessentials are worth seeing. Take care of your precious eyes, my friends, and happy writing!
---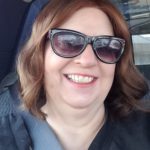 Jordan Buchanan is the author of erotic romance short stories and novels she describes as realistic fantasy. When she's not reading or writing, she enjoys cuddling with her three adopted Lab mixes and watching Detroit Red Wings hockey. You can learn more about Jordan on her website and her Author Central page.