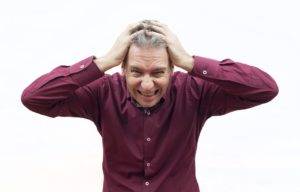 The initial response to the question of who owns your domain name would likely be, "I do". In most cases, you would be correct. That's what I thought, too, when I received a renewal notice last August. As it turns out, I was wrong – sort of.
If that sounds confusing, you have it right. There is nothing straightforward about what I am about to share with you. The situation has only now been resolved, though I am still awaiting confirmation that it has successfully been transferred to a more reputable company. I am still in some confusion as to everything that happened. Here's the short version.
I've had the domain name yvonnehertzberger.com since 2009, when my first website was initially set up and my first book published.
That website was set up by a friend of my daughter's . I had no idea about websites and domain names and had been told that he was a genius with computers, etc. in spite of being seriously eccentric. For lack of personal experience, I had to trust that all was correctly done. To this day I believe he thought so, too. And, for the next years, until this past summer, all seemed to be fine.
It all began when I received an email from some random company telling me my domain was up for renewal and offering to renew it for me. It had been purchased so long ago that I couldn't remember who it had been set up with so I asked my techie, Carolyn to check into it. When she looked it up, the domain was registered with a company called eNom, which neither of us had heard of, and at an old address of mine where I've not lived for years. She suggested I call them.
The rep there told me that the domain name was listed under a reseller out of Toronto. They informed me that I could get it back for five years if I paid $249.00, seven years for $500+ or ten years for more than $700. By this time I was so upset I could not remember the exact figures. But I smelled a rat and sensed eNom, and/or the secondary reseller, were holding my domain for ransom. Somehow a shred of sanity remained and I said I'd have to look into that.
Here's what I learned from Carolyn. "I've looked into eNom and it seems they've been buying up loads of smaller resellers. Google is full of people complaining about them charging insane amounts for people to get their own domains back if they don't have the logins for the person who set it up. And, it looks like they've taken over the company you have your other domain with too. They've deleted the forwarding, so that one's down right now."
It turned out that the advice eNom gave me was completely wrong, but you can imagine my panic. That information had been lost in 2009 – if I ever had it to begin with. (Yes, I've grown smarter since then.)
Carolyn went to work for me, first by creating a clone of my website, transferring it temporarily to my other domain name and reassuring me that none of that would be lost.
While we were doing all this, the domain name renewed automatically, which freaked me out again because I didn't know who had my credit card details. Carolyn found it eventually, safe and sound with a company called HostMDS, who used to host the site way back when. Nothing there signalled that eNom had taken it over.
Then I got the renewal notice for the other domain name, due to expire in October. It was registered with Namecheap, also taken over by eNom. I considered letting it expire, but Carolyn suggested trying to transfer it to GoDaddy, to get it out of eNom's clutches. Then, if that worked, she'd have a go at moving my main domain over as well.
That seems to be going relatively smoothly, so we are emboldened to try moving the main site soon. (Having bought a similar-sounding domain from GoDaddy just in case.)
This was a nightmare for me and cost me a number of sleepless nights. I truly don't know what I would have done if Carolyn had not had the knowledge needed and the patience with my tech phobia to stay the course and get it done. Thank you, Carolyn.
In conclusion, I ask again, "Do you know who owns (or controls) your domain name?" It might be wise to double check. You can do so at https://whois.icann.org.  I sincerely hope you don't get stuck like I did.