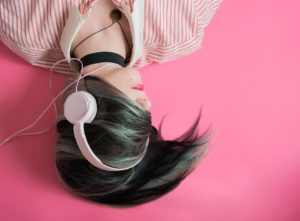 Audiobooks. My first thought when I hear the term are questions like Why? Or what's the point? The thought that "those aren't real books" might float through my head. I feel pretty damn full of myself unless I stop to think for half a second, maybe get a bit introspective. Then I realize how much I sound like the paper sniffers. You know, the people who say an eBook isn't a real book. They love the smell of paper and apparently the reading experience isn't the same without it. I don't want to be one of those people. Then I'll admit to myself that if my commute involved driving an hour or two every day instead of the 30-foot stroll in my slippers and work pajamas from bed to office that I might see more of a need. Then I'll remember that I've actually listened to audiobooks a time or two when an ex and I would take road trips. (If you've driven I-80 across Wyoming, you'll understand the need for entertainment beyond the "scenery.")
All of this is just a big buildup to make the point that, as an indie author you're a business person. You have product and customers. Some of your potential customers like a product, in this case your books, in different formats than others. You have your book available as an eBook (possibly in different eBook formats available from multiple vendors) and paper. Is it also available as an audiobook? Should it be? Audiobook sales have seen a big increase in the last few years. Until recently the only viable option an indie author had for publishing an audiobook was Audible, an audiobook company now owned by Amazon. Now there is another option. Indie eBook distributor Smashwords has started what they're calling a "collaboration" with Findaway Voices, an audiobook production and distribution company. This is another option to consider to produce and/or distribute an audiobook version of your works.
The page discussing this collaboration and taking an author through the first steps of signing up for an account, hopefully as the first step in producing an audiobook, can be found here. The reason they give for why using them might be preferable comes down to one of control. You're in charge and are "in control every step of the way." The downside is that you're on the hook to pay for this. I know that Audible has different options that have been evolving over time, with many of them resulting in the indie author not having to invest money to create an audiobook, but also giving up much of the potential profit if the audiobook sells well.
At first glance, a second potential issue is that signing up from the Smashwords page assumes that the book in question is available as an eBook through Smashwords. However, that page directs indie authors directly to Findaway Voices' website  in a couple of different situations, one of them being if the book isn't available on Smashwords.
I'm not in a position to recommend for or against this vendor. If this seems like something you'd be interested in, dig in and decide for yourself. That it appears to be another viable option that might make sense for some authors is a positive though. If you decide to produce an audiobook through using Findaway Voices, let us know how it goes.