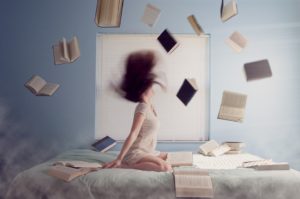 Back in May, I reported on my first trial with Voracious Readers Only, a site that makes connections between readers and authors in a promising new way. As you'll remember, my first experiment was to allow VRO to give away 20-25 free copies of my book Ghost Walk, Book 1 of my paranormal mystery series. Out of those, I did realize a few reviews, and according to site owner Larry Froncek, my results were in the high normal range.
Larry thought my book would be a good fit for their Evergreen Program, which offers my book free to any new subscribers who opt for the thriller/mystery genre. The program is $20 a month and I can cancel at any time. I decided it was worth the chance to connect with lots of new readers, and after 30 days, I have the results. Larry was kind enough to give me his insider stats so I could have a better understanding of how it all shook out.

VRO sent 619 new mystery/thriller opt-in emails. Of those, 214 were opened, or 35%. Of those, I had 43 clicks (or 7%). In addition to that, there were also 45 other requests for Ghost Walk from bonus promotions to the rest of the subscriber list, something that went beyond the Evergreen plan.
I have 5 confirmed reviews in the last 30 days, but there are probably more as Larry can't always match up the reviewer's screen name to the name on his list. In addition, I can't see Amazon's UK page, so I'm unable to check there to see how many new reviews might be listed, but I do know my own sales results (see below) include many more UK readers than before. The reviews are unequally divided between Amazon and Goodreads with the small majority going to Goodreads.
The number of reviews might seem small, but we all know how tough it is to get readers to leave any at all. I'm heartened by the fact that they continue to dribble in, and I do believe that the more good reviews a book has, the more reviews will come. People seem to like to be part of a group, and may be hesitant to leave that first review that hangs out there all alone. In any event, I do see this as a process, and it is continuing and growing.
Now the really good news is that sales for all my books in the series have improved, and my best-seller in the past 30 days has been the second book in the series, followed by all the rest. I have done a couple of promos within this period, and the tough part about doing multiple promos is that you can never be exactly sure which one is producing the most results. However, my overall book sales are holding, and holding at a higher rate than before this time. I attribute much of this to VRO and the constant and ongoing exposure to new readers.
What's interesting to me, too, is the distribution around the globe. According to my BookReport stats for the same period, my books have an increased sales presence in the UK, Canada, Australia, and … Denmark! Prior to using VRO, my sales were 95% US.

Going over my numbers here, I got curious about VRO's readership. I asked Larry to share his subscriber numbers with me, and he reported that he has 7,832 total readers on his list. In the past 30 days, he's added 942 new names to that list (and of that, 619 opted for mystery/thriller, good news for me). At the present time, he doesn't break opt-in choices down into sub-genres, but does include the major hitters:
Fantasy, Young Adult, Mystery/Thriller, Romance, Science Fiction, Horror, Inspirational, and Western.
While Larry doesn't have numbers on country of origin for all subscribers, he was kind enough to supply me with his Google analytics for visitors to VRO in the last 30 days:
United States    34.85%
United Kingdom    33.91%
Canada        13.62%
Australia    10.84%
India        2.05%
New Zealand    1.38%
Other/Unknown    3.35%
It's obvious that VRO is introducing authors to a global community. What's not to like about that?
So what's my takeaway on this? I haven't gotten as many new reviews as I might have (naively) believed I would, but the number is growing, and has the potential to grow more moving forward as long as I'm enrolled in the Evergreen Program. The real benefit is the constant exposure to new readers. Every day I get a couple of opt-ins to my author newsletter, which means every day a couple more people are looking at my book AND opting to be on my mailing list: 88 out of the last 30 days. If those numbers hold even partially over the next weeks and months, and if Larry continues to grow his list the way he has been, I see nothing but good news on the horizon.