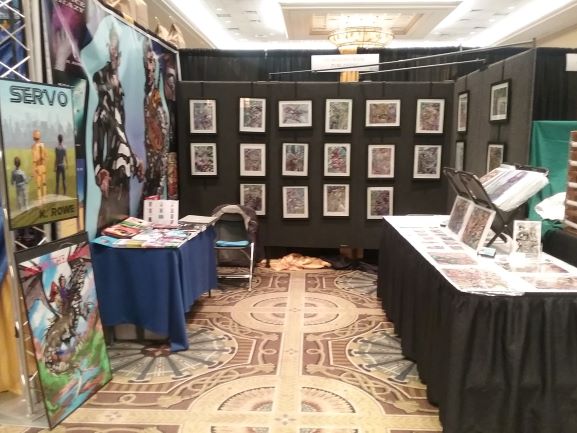 Okay, this isn't supposed to be a downer of a post. But, it's something writers might have to face. It happened to me March 21-24 this year. Some of you may remember that every year for the last three years I've had a booth at our local comic con. This year was no exception. I share a booth with my artist friend and we have a lot of fun.
Last year was a dream come true. Our sales were huge! We each made more than enough to cover our portion of the booth fee for the next year (something of a benchmark we've come up with). And this year we were expecting the same. Except, that's not what happened.
There were several factors which we think played a role in our lackluster sales:
1.       The convention center was undergoing a major renovation. We had been made aware of this the previous year and figured it might create issues. This caused plenty of chaos for both vendors and patrons. Vendors who had booths in the same location for years were moved somewhere else, and they felt it kept would-be buyers from finding them. That was not our case; we had the exact same booth as last year (we requested it, and they granted).
2.       Despite being a four-day con, they capped admittance on the busiest days. They made this decision as the convention date drew nearer, and it was a factor we had no control over. This was probably what hurt us the most. Last year, on Saturday, it was insane. You could barely move through the aisles because there were so many people. We had designed our booth with a "relief" space where folks could escape the crush and stop for a few moments. This year, on Saturday, it felt like a ghost town. Granted, I heard the show staff got in trouble last year with the fire marshal because of the crowds, but boy, was it good for sales!
3.       The convention producers raised the admission price, again. Even though they said two of the days were sellouts, it didn't feel like there were many people. And those people who did fork out the higher price for tickets seemed to be less than willing to part with their hard-earned cash to buy books or original artwork.
4.       Lack of A-list celebrities. Many people go to comic cons to see their favorite actors and actresses. Hey, I'm one of them. And some years the show has fantastic guests. This year, it was sorely lacking. From what I was told, there was another, larger convention taking place in Chicago over the same weekend, and most of the talent went there because the crowd would be larger. One of the big names cancelled the day before, so there was no time to get another person to fill his place.
Overall, sales for me were pretty terrible. I sold nine books and two comics over the four days. Yeah, dismal. I didn't even make enough to cover my portion of a 10×10 booth for next year, which the show staff raised to $500 for the same booth we used to pay $250 for when we started. So, my friend and I made the command decision to purchase two artists tables (each $150) and see what happens next year. We know the convention center will still be under construction until late 2020, and this may be the last year we'll do a comic con if sales don't improve. My friend is also a high school art teacher, involved in the Kentucky Arts Council, and does lot of festivals and gallery shows during the year, so the income from comic con is a small part of what he makes throughout the year. He does it because he loves comics, the toys you get there, and the occasional celebrity.
As I made rounds through the three floors of vendors, I chatted with some of them. Most said it was a "weird" con. Things didn't seem to run as well, or there was an odd "energy" about the whole place. Whatever it was, most said they were significantly down in sales compared from last year. I can only hope next year we get some good energy going.
Comic con is the one "vacation" I get away from the farm each year, and I enjoy it because I get to meet those who buy my books. I think it's important to be an approachable author, and be out there for people to engage with. Now it's to the point folks are looking for me, hoping to get that next book in the series. And I look for those customers, making sure they feel special because they're supporting an Indie author. So, fingers crossed next year is better!