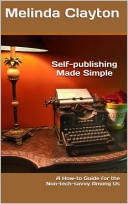 Several years ago, I wrote a self-publishing guide titled Self-publishing Made Simple: A How-to Guide for the Non-tech-savvy Among Us. My goal was to help up-and-coming authors avoid some of the pitfalls and tough lessons many of us have learned along the way.
From the Table of Contents:
Self-publishing for the Non-tech-savvy Among Us:  An Introduction
Self-publishing or Traditional: Research, Research, Research
Self-publishing: Business Odds and Ends
Ebooks: What Are the Options?
Kindle Direct Publishing: Pros, Cons, Royalties and Payments
Draft2Digital: Pros, Cons, Royalties and Payments
Smashwords: Pros, Cons, Royalties and Payments
Formatting in Microsoft Word for Kindle Direct Publishing and Draft2Digital
Paperbacks: What Are the Options?
KDP Print (formerly CreateSpace) vs. IngramSpark
ISBNs, Barcodes, Copyright, Library of Congress, and Alexa Rankings
How Not to Sell A Book
A Final Word
Helpful Resources
About the Author
I removed the guide from publication several years ago for a couple of reasons. First, the world of self-publishing went through an incredibly fast period of change and growth for a few years, and I wasn't able to keep up and revise as often as was needed.
Second, because of the various roles I have in the writing/publishing community, I receive questions on a fairly consistent basis and instead of typing out long responses, it was often easier to just attach the PDF and say, "Here. Read this."
Because I want to repay those who paved the way ahead of my own self-publishing journey, I'm now making it available to anyone who wants it. Download and share as you see fit; just don't try to republish or claim it as your own. *Looks over glasses and wags finger*
You may download Melinda's guide to self-publishing here.