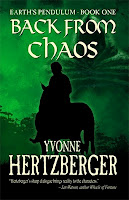 Back From Chaos; Book One of Earth's Pendulum
by Yvonne Hertzberger
Genre: Epic Fantasy
112,000 words
Gaelen, with Lordship unexpectedly thrust upon him, weds Marja, daughter of the enemy, to complete his victory over Catania. A trusted advisor turned traitor seeks to murder Marja, perhaps even Gaelen.
Klast, loner, perfect spy and assassin, orphaned by murder, brutalized by his sadistic captor, appears incapable of feeling. Yet it is he who must rescue Brensa, Marja's maid, captured by brigands. But before he can complete the path Earth has set for him, Klast must help Lord Gaelen to apprehend and bring to justice the traitor who threatens them all.
All of them must survive the Red Fever, a symptom of Earth's imbalance and pain, which ravages the population.
Earth shows Liethis, her true seer, that the bond between Klast and Brensa must not be severed. Earth's healing, the future of the people, even the birth of the heir Marja bears, depend on it. But even Liethis is not shown just what Earth has in store for Klast and Brensa. There is no time to waste!
This title is available from Amazon US, Amazon UK, Smashwords, and Barnes & Noble. Continue reading "Book Brief: Back From Chaos"