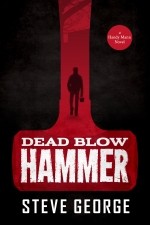 Dead Blow Hammer
by Steve George
Genre: Mystery, suspense
Word Count: 52,000
Jim Mann is a homebody. While he trades grain commodities out of his house in a western suburb of Minneapolis, he spends most of his time helping his neighbors. If they ask, he helps. If they don't ask, he offers. Everyone on Barbosa Street calls him Handy.
It would have been a peaceful life if he hadn't trusted his neighbors. If he hadn't traded home repair work for Bo Stinson's accounting expertise. If he hadn't fallen for Gustav Olson's long-lost daughter. If he hadn't, with true DIY stubbornness, tried to do it all himself.
Dead Blow Hammer tells the story of how one misstep—in this case, the first step on the stairway to Angie Stinson's bedroom—drew Handy Mann into a life-or-death struggle with evil he never imagined could be so close at hand, a struggle he will need every tool in his tool box to survive.
This book is available from Amazon US and Amazon UK.