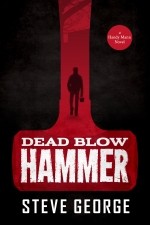 Dead Blow Hammer
by Steve George
Genre: Mystery, suspense
Word Count: 52,000
Jim Mann is a homebody. While he trades grain commodities out of his house in a western suburb of Minneapolis, he spends most of his time helping his neighbors. If they ask, he helps. If they don't ask, he offers. Everyone on Barbosa Street calls him Handy.
It would have been a peaceful life if he hadn't trusted his neighbors. If he hadn't traded home repair work for Bo Stinson's accounting expertise. If he hadn't fallen for Gustav Olson's long-lost daughter. If he hadn't, with true DIY stubbornness, tried to do it all himself.
Dead Blow Hammer tells the story of how one misstep—in this case, the first step on the stairway to Angie Stinson's bedroom—drew Handy Mann into a life-or-death struggle with evil he never imagined could be so close at hand, a struggle he will need every tool in his tool box to survive.
This book is available from Amazon US and Amazon UK.
Steve, how did you come up with the title for your book? Does it have any special meaning?
The main character in Dead Blow Hammer, Handy Mann, loves tools. I stumbled across a dead blow hammer one day in Home Depot and thought it would be a great name for a book. It turned out to be a great weapon, too.
Who was your favorite character and why?
It has to be Handy because he, like me, he works out of his home, keeps his eye on the neighborhood, and enjoys DIY projects. The only differences are that his neighborhood is much more exciting than mine . . . and he's thirty years younger.
Does your book have any underlying theme, message, or moral?
Nope. Dead Blow Hammer is a fun, fast page turner. It doesn't slow down to send a message.
What would/could a reader or reviewer say about this book that shows they "get" you as an author?
"I could not put it down." "It keeps you in suspense until the very end." "A great plot with numerous twists that keep you wanting more." Actually, this is what early reviewers are really saying.
Give us an excerpted quote from your favorite review of this book.
"You'll be 'glued' to every page until the bad guys get 'nailed'. The characters are rich and the pace is perfect!"
Where can people learn more about your writing?
At the Handy Mann website: http://www.handymannnovels.com