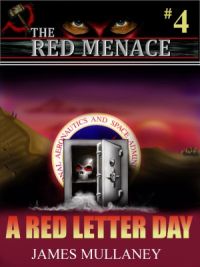 Today we have a sneak peek from the fourth book in the Red Menace series by author James Mullaney: A Red Letter Day.
Official Washington is in an uproar when late FBI Director J. Edgar Hoover's top secret safe is found and then promptly goes missing. Rumor has it that Hoover was infamous for collecting files on all the nation's powerful movers and shakers, so there's no telling what damning information exists within the high-tech vault.
The race is on for the big black box that holds America's future, and the Red Menace and Dr. Wainwright must outrun, outfight and outfox the Mob, a doomsaying environmentalist, every nation on earth desperate to watch the U.S. bleed, as well as an ancient enemy determined to bust the safe and a certain brilliant doctor's world wide open.
A Red Letter Day is available from Amazon, Smashwords, and Amazon UK.
And now, an excerpt from A Red Letter Day…