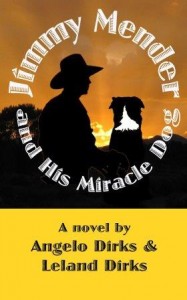 Jimmy Mender and His Miracle Dog
by Angelo Dirks & Leland Dirks
Genre: Fiction – Family Life
Word count: 65,000
Can a man you've only known for a week change your life?
Paul Young can't forget Jimmy Mender, the Stetson-wearing cowboy and former Marine who smells of Old Spice. Jimmy Mender can't forget that he's got a past that could hurt anyone he loves. And when Jimmy disappears, Paul is heartbroken.
For years, Paul wonders what happened to Jimmy. Then, out of the blue, Paul receives a package from Alaska. In it is a note from a stranger informing Paul that Jimmy has died. Also enclosed is a stack of Jimmy's journals and a notice that there are other things up in Alaska that Paul is welcome to if he wants to go there and get them.
And so, Paul embarks on a journey to the north. In the process, he discovers who Jimmy truly was, and in turn, learns a great deal about himself. Along the way, a Border Collie with a secret decides to help him out. Sometimes, falling in love with the wrong man can bring you exactly where you need to be in your life. Continue reading "Book Brief: Jimmy Mender and His Miracle Dog"