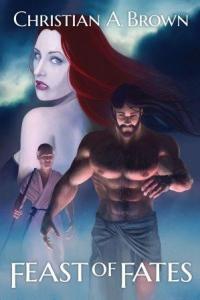 Feast of Fates
by Christian A. Brown
Genres: fantasy, fiction, romance
Available at Amazon
Morigan, handmaiden to a kindly sorcerer, discovers long-buried powers she never knew herself to possess. Visions plague her, of a devastating madness descending on one of the Immortal rulers of the realm. Morigan's powers hold the key to stopping a war if she can survive the plots against her.
Excerpt:
Throughout the day, in fleeting moments, she saw the king around; removed from his armor and dirty as a common man in wear and work. He was always fixing something: a person, a cart to be readied for the mortal migration, even the shoe on a child's foot. No task was too small or too far beneath him, and while she respected this, she felt that much of it was penance. Whatever he spoke of back on the shore of Lake Tesh, these seasons and promises, the reason for his army marching south, it would end in tragedy. And she pitied him for it. She didn't know why, and more than once she stopped to hold her tears as she thought of his sad, stormy beauty.
What others are saying:
"The love that Christian weaved into his magical and mystical tale will make you fall in love with love." – Teresa Gomes, Amazon.