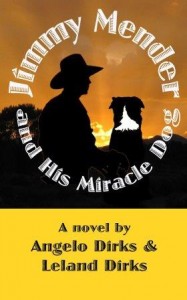 Jimmy Mender and His Miracle Dog
by Angelo Dirks & Leland Dirks
4.9 average star rating from 54 reviews
Available from Amazon.
Paul Young can't forget Jimmy Mender, the Stetson-wearing cowboy and former Marine who smells of Old Spice. When Jimmy disappears, Paul is heartbroken. Out of the blue, Paul receives a package from Alaska. In it is a note from a stranger informing Paul that Jimmy has died. Also enclosed is a stack of Jimmy's journals and a notice that there are other things up in Alaska that Paul is welcome to if he wants to go get them.
Excerpt:
[Jimmy asked me,] "Why'd you leave the farm?"

"Let's just say I never really fit into the life my mom and dad had planned for me. Especially the part about marrying the neighbor's daughter and providing the next generation of cheap labor in the form of grandkids."

"How long you been gone from there?"

"More than a decade. More than a lifetime ago." It was my turn to be silent as a million images from my family and that farm flashed through my mind. Suddenly, I couldn't stand the stink of the pot smoke in the dining room nor the many colognes that had been applied with such abundance.

Like he'd been reading my mind, he offered, "Wanna go for a walk? I'm gonna puke if I have to be around all the smoke in here."

I looked at my watch and nodded at him. 9:03. We could have a walk and I'd still be able to catch the news. Unless something else developed. But I'd learned to manage my expectations in that department. We found Genie and made our apologies. She smiled and nodded, as if she were writing some kind of romance novel and the characters were finally ready to ride off into the sunset together.

The cold Pacific Heights air was humid, and the Victorian streetlights were haloes in the fog when we walked out the door. Somewhere in the distance, a foghorn blared. The streets were oddly quiet, with only the occasional streetcar whirring by with its electric motor.

The silence was comfortable. An old friend sort of comfortable. I liked not having to put on a face for the crowd. Jimmy's voice fit in with the fog, now that he didn't have to shout to be heard.

"Wanna grab some coffee?" Laconic. Cowboys and Marines always were. You don't have to be loud to get a cow's attention, and you don't want an enemy to hear you.

"How about coffee and ice cream?" I countered. "There's a place over on Fillmore."

"It's gonna be a steep walk back, but it sounds good." And we began our descent down the hill to the ice cream shop.

"So what brought you to San Francisco?" I asked, reverting to social mode.

"Job. Pays well, but I don't like it much."

"Yeah? Why?" I was going to get this strong, silent type to talk if it killed me. It was the only way to keep his attention off of me.

"I miss the outdoors. The cattle. The sunshine. Even the dog."

"I don't miss the farm so much. All that dust and dirt. And no people other than my family. But I miss the dog I grew up with, too. Trixie. Helluva dog."

"Ours was Sadie. That dog could herd cattle like two or three human cowhands."

"Sadie. That was my godmother's name."

"Bet you didn't have a Border Collie for a godmother, or else I'd think we were related."

We laughed a little, but mostly it was just the sound of my penny loafers and his boots finding a rhythm to share as we finally made it to our destination. He held the door open for me, and we ordered our espressos and our ice cream. To my surprise, we both ordered vanilla without toppings. We each paid and returned to the foggy night, this time pulling up chairs to the bistro table outside the shop.

"Plain vanilla?" I asked.

"I like uncomplicated."

"So do I."

Out of habit, I looked at my watch: 9:03.

"Dammit. My watch stopped. Must need a new battery."

"Let me look at it."

I unbuckled the alligator strap and handed it to him, unquestioningly. He held it to his ear, closed his eyes, and handed the watch back to me.

"There you go."

I looked at its second hand, now ticking its way around its unexpressive face, and then I looked at the cowboy face across from me. "How'd you do that?"

He shrugged. "Things just work around me. I reckon it goes with the name."

"Jimmy?"

"No, my last name. Mender."