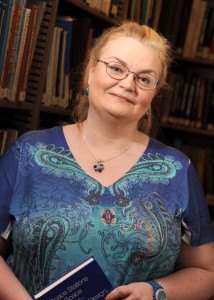 Stephanie Osborn is a former payload flight controller, a veteran of over twenty years of working in the civilian space program, as well as various military space defense programs. She has worked on numerous Space Shuttle flights and the International Space Station, and counts the training of astronauts on her resumé. Of those astronauts she trained, one was Kalpana Chawla, a member of the crew lost in the Columbia disaster.
She holds graduate and undergraduate degrees in four sciences: Astronomy, Physics, Chemistry, and Mathematics, and she is "fluent" in several more, including Geology and Anatomy. She obtained her various degrees from Austin Peay State University in Clarksville, TN and Vanderbilt University in Nashville, TN. In addition she possesses a license of ministry in the Protestant faith; has been a duly sworn, certified police officer, and is a National Weather Service certified storm spotter. Her space experience includes Spacelab and ISS operations, variable star astrophysics, Martian aeolian geophysics, radiation physics, and nuclear, biological, and chemical weapons effects. Her travels have
taken her to the volcanos of the Cascade Range in the Pacific Northwest, where she explored any number of such volcanos, including being present for several phreatic eruptions of Mt. St. Helens. Her broad knowledge base and experience led the LibertyCon 2011 programmers to invite her to describe what it takes to be a polymath.
Stephanie is currently retired from space work. She now happily "passes it forward, " teaching math and science via numerous media including radio, podcasting, and public speaking, as well as working with SIGMA, the science fiction think tank, while writing science fiction mysteries based on her knowledge, experience, and travels. Continue reading "Featured Author: Stephanie Osborn"