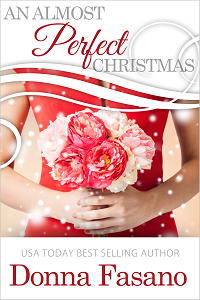 An Almost Perfect Christmas
by Donna Fasano
Genre: Romance
22,000 words
When it comes to business, Aaron Chase knows how to succeed. But when his daughter, Izzie, asks him for the perfect family Christmas, the handsome widower feels at a loss about how to fulfill his little girl's dream.
Pediatric Nurse Christy Cooper has dedicated her life to taking care of children. She agrees to act as Izzie's stand-in mom for this special holiday and throws herself into making the child's Christmas wish a reality. Maybe this selfless act will somehow alleviate her secret regrets and failures of the past.
The holiday is filled with fun and laughter, and it's amazing how three short days can be so life-changing. When the impish eight-year-old talks the adults into acting out a silly, make-believe wedding, young Izzie is certain the magic of the season will turn the pretend vows into the real thing. The little girl wants her daddy to have Christmas in his life — every single day.
An Almost Perfect Christmas is available for eBook and in print from Amazon.com, Barnes & Noble, Amazon UK, and all online booksellers.
Donna, how did you come up with the title for your book? Does it have any special meaning?
One of my best friends lost her daughter over 12 years ago. I watch my friend struggle with her grief even today. She has up days and down days, as anyone would expect, but even though she will never again have an absolutely perfect day, she continues to make a valiant effort to live her life to the fullest. I wrote this book for my friend, and for all grieving parents.
Who was your favorite character and why?
I loved Izzie. She was the first character to come to me. She might only be 8 years old, but she knows what is in store for her and she wants to make sure her daddy is taken care of.
Does your book have any underlying theme, message, or moral?
An Almost Perfect Christmas is about cherishing each day, loving the people who are nearest and dearest to us, and living a hopeful, meaningful life even when tragedy strikes.
What would/could a reader or reviewer say about this book that shows they "get" you as an author?
No matter how hard we try, life rarely allows us to plan. Our paths are strewn with adversity and misfortune. However, we must live with compassion toward others and hopefully anticipate the next happy moment that is just around the bend. We might not be able to see it, but it's coming.
Give us an excerpted quote from your favorite review of this book:
"…heart-wrenching, sweet, touching, and requires a box of tissues. In this story, life isn't always perfect, but happy endings are still possible." ~USA Today
Where can people learn more about your writing?
http://donnafasano.blogspot.com