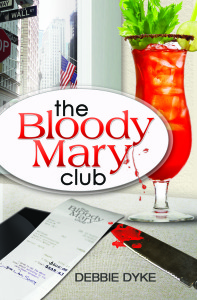 The Bloody Mary Club
by Debbie Dyke
Genre: Fiscal thriller
394 pages
An all women investment club meets in historic Old Town, Alexandria, in the shadow of the U.S. Capitol. The friends, caught up in a ruthless bank takeover, uncover accounting fraud and trading irregularities.
When the tight circle faces off against greedy executives sitting on millions of dollars worth of stock options their financial security blanket is ripped away. The ladies become the target of a predatory national bank. As the intrigue and violence escalates so does the vodka in their namesake drink, Bloody Marys.
This title is available from Amazon in print or Kindle format and Barnes and Noble. Continue reading "Book Brief: The Bloody Mary Club"