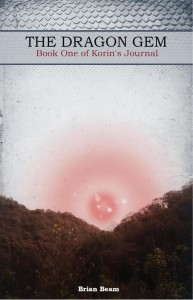 The Dragon Gem
by Brian Beam
Genre:Fantasy
142,000 words
With nothing to go on but a vague dream which may or may not be memory, Korinalis Karell has traveled Amirand for three years in search of his birth parents. With a magical Contract to fund his journey and a magic talking wizard cat named Max to keep him out of trouble, Korin has made his way through the world with no success in finding them.
However, what starts out as a seemingly simple Contract job to find a stolen gem for a count quickly turns into a fight for survival that brings about revelations about Korin's life that turn his world inside-out and upside-down.
With the aid of a mediocre wizard who happens to be the daughter of the most powerful wizard in Amirand, a chatterbox Kolarin, and Max, Korin sets out to discover the secrets of his past so that he may live to see his future.
This is a firsthand account of Korin's journey as he chases down thieves, is chased down by a dragon and gods-forsaken creatures of death, and finds out that life just never seems to get easier.
This title is available from Amazon and Barnes and Noble.
Brian, how did you come up with the title for your book? Does it have any special meaning?
The protagonist, Korin, is hired to retrieve a gem(the Dragon Gem) for the corrupt Count Galius. The quest for this gem leads to the revealing of Korin's unknown past. Though the storyline with the Dragon Gem is resolved in this book, it is the catalyst for the greater story to come.
Who was your favorite character and why?
Max, but mainly because he's just so darn fun to write. He's a talking cat(and a wizard at that!) and a complete smartass, so I can be as sarcastic as I want with him. His mysterious past and intelligence gives him a lot of depth.
Does your book have any underlying theme, message, or moral?
Is it bad that I want to just say no? The Dragon Gem is meant to be a fun and exciting fantasy adventure. I hope that readers take a little something from it, but I did not set out to convey any complex, underlying message.
What would/could a reader or reviewer say about your writing that shows they "get" you as an author?
Simply that they care about the characters. I feel that true immersion in fiction starts with connecting with the characters. I want readers to feel for the characters through all the good and bad and care about what happens to them.
Give us an excerpted quote from your favorite review of this book:
"Mr. Beam is a witty writer and his characters spring from the page and become your best friends."
Where can people learn more about your writing?
www.brian-beam.blogspot.com