Today we have a sneak peek of Hettie Ashwin's novel, Literary Licence: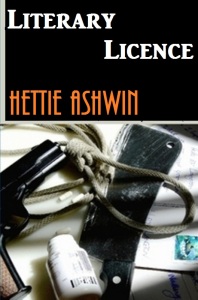 Imagine an author in her prime and she wants to retire.  Easy it seems. Except writing is in her blood.
Literary Licence follows the fortunes of Ursula Drewsbury as she discovers retirement is more than gardening and cups of tea. She creates a pseudonym only to discover he is larger than life and her ego is piqued. So what to do? Killing him off would be easy for the best crime and fiction writer. Or is it? Ursula is beset by more than a passing problem as she tries to kill her pseudonym Lloyd Langton and escape the law and the paparazzi.
Her postman, a rather large Russian, just complicated an already farcical situation by being hopelessly in love with her. Ursula's problems compound when an imposter turns up purporting to be her pseudonym, and it takes more than a bit of wheeling and dealing, plotting, conniving and smooth talking for Ursula Drewsbury to come out smelling like a rose, with the help of the imposter, a postman, a savvy reporter and a 10,000 pound reward.
Literary Licence is available for purchase at Amazon.com and Smashwords. Continue reading "Sneak Peek: Hettie Ashwin's Literary Licence"