Today we have a sneak peek of Hettie Ashwin's novel, Literary Licence: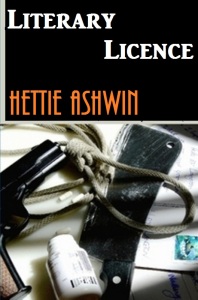 Imagine an author in her prime and she wants to retire.  Easy it seems. Except writing is in her blood.
Literary Licence follows the fortunes of Ursula Drewsbury as she discovers retirement is more than gardening and cups of tea. She creates a pseudonym only to discover he is larger than life and her ego is piqued. So what to do? Killing him off would be easy for the best crime and fiction writer. Or is it? Ursula is beset by more than a passing problem as she tries to kill her pseudonym Lloyd Langton and escape the law and the paparazzi.
Her postman, a rather large Russian, just complicated an already farcical situation by being hopelessly in love with her. Ursula's problems compound when an imposter turns up purporting to be her pseudonym, and it takes more than a bit of wheeling and dealing, plotting, conniving and smooth talking for Ursula Drewsbury to come out smelling like a rose, with the help of the imposter, a postman, a savvy reporter and a 10,000 pound reward.
Literary Licence is available for purchase at Amazon.com and Smashwords.
And now, from Literary Licence…
Chapter One
"Sign here." The adoring public always wanted something. Always asking for a bit, or these days a largish chunk of Ursula Drewsbury. Purdy & Stout booksellers had fulfilled their part of the bargain and Ursula Drewsbury, 'famous author' was squeezed behind a small desk which was plonked at the side of a precarious pyramid of her books. It wasn't that she didn't appreciate their fan clubs, requests for signings, photographs next to some auntie's cousin Mildred or a small word for "my husband", but the novelty was wearing thin.
"Miss Drewsbury." A mousey woman, who Ursula thought had atrocious dress sense, wagged her hand at the author. "Miss Drewsbury, look this way. Please Miss Drewsbury, I just need to step back. I can't fit all of you in the picture," the little woman said, pointing an instant camera in Ursula's direction. With a forced smile Ursula sat down on the less than adequate seating Purdy & Stout had provided and waited for the click. The manager rubbed his hands together as his tills ker-chunked and Ursula tried to signal for a cup of tea and perhaps a jumbo doughnut.
"Oh, Miss Drewsbury," a waspish man gushed. "I've read all your books at the library and it's a pleasure, a real pleasure." He pumped Ursula's hand.
"Not buying my latest then?"
"Oh no. I don't buy them. At the library you see. Much easier."
"Ah, I see," Ursula said withdrawing her hand.
Adoration was alright in its measure Ursula thought, as she leaned on her elbows and closed her eyes against the ever increasing queue.
"Miss Drewsbury, marvelous, simply marvelous," a rotund gentleman beamed. Ursula opened her eyes. "How are you, Miss Drewsbury," he added leaning forward letting the full force of his garlic lunch wash over Ursula.
"I'm tired actually. Quite tired."
"Well done," the gentleman said not listening to one word and thrusting a book for signing. "Marvelous who-done-its. My wife and I read them all. We're a bit of the super-sleuths ourselves actually."
"Really." Ursula feigned interest.
"Cracking good read, Miss Drewsbury. Simply marvelous."
"As you said. Who shall I make it out to?"
[subscribe2]