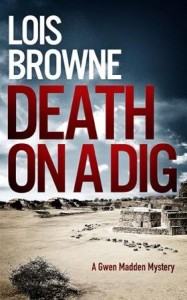 Today we have a sneak peek from the murder mystery by Lois Browne: Death on a Dig.
When a neighbour begs Gwen Madden to head to Mexico to search for her daughter, missing from an archaeological dig, Gwen doesn't hesitate.
Within 24 hours she is in the Oaxaca Valley tracking Alicia Lester and trying to sort the truth from lies about a trove of stolen artifacts. Before long people have begun to die.
The motive for murder isn't clear, which is why Gwen is counted among the suspects. Unable to leave while the official investigation is underway, Gwen continues to ask her own questions, even when it becomes apparent she may be the killer's next target.
Death on a Dig is available from Amazon, Smashwords, and Amazon UK.
Here is an excerpt from Death on a Dig…