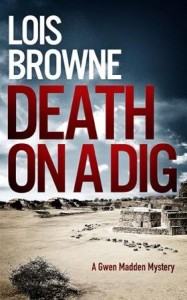 Today we have a sneak peek from the murder mystery by Lois Browne: Death on a Dig.
When a neighbour begs Gwen Madden to head to Mexico to search for her daughter, missing from an archaeological dig, Gwen doesn't hesitate.
Within 24 hours she is in the Oaxaca Valley tracking Alicia Lester and trying to sort the truth from lies about a trove of stolen artifacts. Before long people have begun to die.
The motive for murder isn't clear, which is why Gwen is counted among the suspects. Unable to leave while the official investigation is underway, Gwen continues to ask her own questions, even when it becomes apparent she may be the killer's next target.
Death on a Dig is available from Amazon, Smashwords, and Amazon UK.
Here is an excerpt from Death on a Dig…
He was shorter than she was. Not by much, but enough that her stomach shouldn't clench at the sight of him. She tried to calm her breathing, to soften the muscles around her eyes so he wouldn't see the fear in her face.
After a couple of encounters, when he first came to the camp, she had tried to avoid him. Lately, the others said, he was asking questions about her. The last time she saw him alone, face to face, he had shocked her. He had actually snorted when she denied clandestine visits to the field lab.
Now he was here in front of her, solidly planted on the sidewalk, his eyes, dark and fierce, staring into hers, his hand on the passenger door of the car, holding it open for her. The smile on his face, not wide enough to show his teeth, told her he thought he had her trapped.
The sun was high overhead and there was no shade anywhere on the street, but she shivered.
She wished she hadn't lied to her friends about where she was going. But then again, this man was one of the reasons she had done so. He had forced her to make a decision. Now she needed to follow through on it, and she wouldn't get the privacy she needed if she had gone with the others.
There was no question who was the stronger. His powerful arms flexed through his shirt sleeves.
She smiled, hoping it conveyed that she thought this encounter was a genuine coincidence. Not daring to trust her voice, she shook her head to refuse his offer of a lift and moved to step around him.
He barely shifted his weight, but it was enough to block her and make her hesitate. He told her it was no trouble and widened the already open passenger door for her.
She shook her head again, took a firm step around and past him.
A sharp pain exploded at the back of her head and the sunshine dimmed. From behind, he caught her around the waist, grabbed her left arm, shoved her into the car.
Stunned, she was still able to stiffen her arm on the front seat and use it to resist being pushed into the vehicle.
She felt his arm leave her waist. Another sharp, heavy pain radiated from the same spot on the back of her head. For a split-second, her view was obscured by a black hole, just before she fell forward and it swallowed her.
---