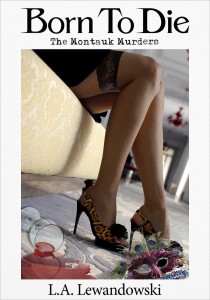 Born to Die: The Montauk Murders
by L.A. Lewandowski
Genre of this Book: Murder Mystery
Word count: 80,000
Born to Die – The Montauk Murders is set amongst the glitz and glamour of the Beau Monde. The 80th birthday of Miranda Richards, an art-world icon, boasts the party of the summer at her exclusive mansion on Long Island. Old resentments and convoluted relationships bubble to the surface as an eclectic, A-list cast of characters celebrate at a Masked Ball. The luxurious trappings of success, however, don't hinder the agenda of an invited guest with a score to settle. Friends and family are left to wonder— Will I be next? Follow Detective Steele as he sifts through the evidence before the killer strikes again.
Born to Die – The Montauk Murders is available for Kindle on Amazon.com and Amazon UK. Continue reading "Book Brief: Born to Die – The Montauk Murders"