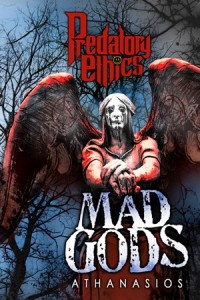 Mad Gods: Predatory Ethics Book I
by Athanasios
Genre: Horror/Occult Thriller
125,000 words
Powerful and secret organizations have manipulated fate to dominate governments, influence religions, corrupt humanity and steal their souls.
Just before they succeeded in their centuries old plans they were stopped. In 1962 just one man and a lost soul were the only things standing in their way.
They gave us a new hope in the face of an oblivion laid out in forgotten Gospels and the Bible. What could one person do against such overwhelming opposition intent on enslaving the world? Mad Gods is a unique and engaging read that re-imagines myth and gods.
This title is available from Amazon, Smashwords, and Barnes and Noble. Continue reading "Book Brief: Mad Gods"