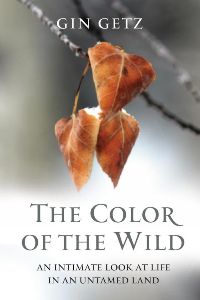 The Color of the Wild
by Gin Getz
Genre of this Book: Memoir/Nature
Word count: 64,353
The Color of the Wild, an intimate look at life in an untamed land.
An original, inspiring work of literary non-fiction; an unconventional memoir of woman and land. Lyrical and lilting, powerful and passionate, The Color of the Wild is the beautifully told story of one woman's life, love, determination and connection with the natural world. More than a memoir, a contemporary western tale with stunning stories interspersed and intertwined with powerful poetry, prose, and striking photographs.
Gin's captivating tone and intimate view bring to life the drama and trauma of one year on her family's ranch, surrounded by and a part of the wilds around them. The reader enters a world of deep beauty, fresh perceptions, simple humor and breathtaking writing as The Color of the Wild unfolds.
Set high in Colorado's San Juan Mountains, along the Headwaters of the Rio Grande, Gin opens her world to the reader with stunning honesty, and compassionate grace, sharing this captivating, personal tale of home, belonging, and commitment to land and family.
This book is available from Amazon and Barnes & Noble. Continue reading "Book Brief: The Color of the Wild"