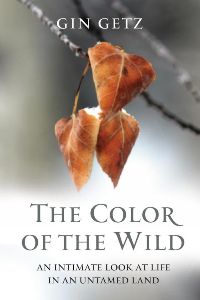 The Color of the Wild
by Gin Getz
Genre of this Book: Memoir/Nature
Word count: 64,353
The Color of the Wild, an intimate look at life in an untamed land.
An original, inspiring work of literary non-fiction; an unconventional memoir of woman and land. Lyrical and lilting, powerful and passionate, The Color of the Wild is the beautifully told story of one woman's life, love, determination and connection with the natural world. More than a memoir, a contemporary western tale with stunning stories interspersed and intertwined with powerful poetry, prose, and striking photographs.
Gin's captivating tone and intimate view bring to life the drama and trauma of one year on her family's ranch, surrounded by and a part of the wilds around them. The reader enters a world of deep beauty, fresh perceptions, simple humor and breathtaking writing as The Color of the Wild unfolds.
Set high in Colorado's San Juan Mountains, along the Headwaters of the Rio Grande, Gin opens her world to the reader with stunning honesty, and compassionate grace, sharing this captivating, personal tale of home, belonging, and commitment to land and family.
This book is available from Amazon and Barnes & Noble.
Gin, how did you come up with the title for your book? Does it have any special meaning? 
Choosing a title was hard! I played with words, bounced ideas back and forth with friends and colleagues, and labored over this for a long time. Maybe it comes easy for some, but not me. This title seemed to capture the passionate connection I feel with land and write about.
What was the hardest part of this book to write/research?
Exposing myself, bleeding on paper (to borrow an expression from Hemmingway), digging into the deepest, darkest corners of my heart and soul and expressing the intimate connection with family and land in words. This book is a part of me, and sharing it can be… scary.
Does your book have any underlying theme, message, or moral?
The connection between person and place is profound. I believe we often overlook the value of wild place and silent spaces. I seek to find an understanding and greater balance of this connection. Perhaps in sharing my story, others will relook their place in the wild world.
What would/could a reader or reviewer say about this book that shows they "get" you as an author? 
The one word that comes up more than any other I see in reader's description of me as writer and character is: grit. I'm not sure it's a good thing, certainly not always, but when I see that word now, I smile, and say, yup, I guess that's me.
Give us an excerpted quote from your favorite review of this book:
"I am overcome. Vibrant Life. Heart rending grief… Who knew a beautiful life is a vibrant tapestry of loss, pain, and suffering transformed by tears, time, and love? Gin tenderly, yet with firmness, captures and gives voice to the events that shaped her journey…"
This was the first review I received, and from the toughest critic. Receiving it brought tears to my eyes.
Where can people learn more about your writing?
My blog can be found at www.GinGetz.com. It is a place and space for me to open up, share, and connect with my readers. It is this connection that has been the greatest inspiration and motivation for completing and sharing this book.