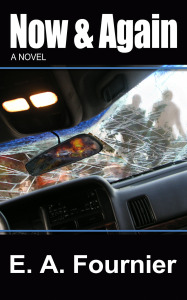 Today we have a sneak peek from the science fiction novel by author E. A. Fournier: Now & Again.
When a day begins with burying your wife, you'd think it can't get much worse, but for Kendall McCaslin and his son, Josh, it can. On their way back from the cemetery, they're caught in a chain-reaction freeway crash and both killed. Surprisingly, they don't stay dead.
The fatal accident propels father and son into a series of equally lethal alternate crashes until they devise an escape route. Bruised but intact, they uncomfortably realize that they now carry compound memories. Racing home, Kendall finds his wife alive again; Josh discovers his longtime girlfriend is missing. Now what do they do?.
Now & Again is available from Amazon and Amazon UK.
And now, an excerpt from Now & Again…